Combine Hyatt Points
Since I just needed to combine Hyatt points I figured it was worth writing up a quick how to guide on the process. I'll also share how long it took for the transfer to go through this time, and in the past, so you have an idea on the expected timeframe. You could say I am on a points pooling quest after just writing a how to guide on Hilton point combining. Just like the Hilton Honors program, you can combine points with any World of Hyatt member, but I think the set up Hilton has is better. We'll get into why in a bit, but before that let's look at how to pool World of Hyatt points between members.
RELATED: How To Book A Hyatt Award Transfer And Make Anyone's Free Night Certificate Yours
What Is Points Pooling Or Combining?
Points pooling, or combining points, is when a loyalty program lets you move points from one person's accounts to another to book an award. I say that but you don't actually need to book an award with the points after combining them, that is just the intent of offering it. Sometimes a program will limit this to spouses, or only family members etc., and other times it allows you to do it with any other loyalty program member. Thankfully the World of Hyatt program allows the latter. That is great for splitting the cost of a trip with a friend, giving a gift or combining the power of your points to unlock luxury stays.
How To Combine Hyatt Points: Step By Step Process
Here are the step by step instructions to combine World of Hyatt points with another member:
Step 1: Points Combining Form
The first thing you need to do is find the Point Combining Form on Hyatt's website. You can Google it or just CLICK HERE to pull it up. One you have that you are going to want to print it off so you can fill it out.
Step 2: Fill Out The Form
After you print it out you are going to need some key information. These are the following things you will need to know for both people:
Your World of Hyatt account number
Address on your Hyatt account
Phone number on your Hyatt
Email on your Hyatt account
The address, phone number and email you add to your form must match what is on your Hyatt account. If anything has changed there be sure to update your Hyatt account before sending in your form.
The person you are sending the points to, or getting the points from, will need the same information. Once you have it both people need to fill out and sign the form. Or you can fill it out for both and just have them sign it, either way works. Be sure to pay attention to where to put the person's info for the transferrer and transferee in the point combining section.
Step 3: Send The Form Into Hyatt
Once you have the form filled out and signed by both parties you need to send it into Hyatt. You can do this one of four ways:
Email it to worldofhyatt@hyatt.com
Mail it to World of Hyatt Customer Service, P.O. Box 27089, Omaha, NE
68127-0089 USA
People have faxed it in in the past too, but I am not sure if that is still possible
If you are a Globalist you can have your Globalist concierge process it
Either person (the transferrer or transferee) can send the form in, it doesn't seem to matter who does.
Terms For World of Hyatt Points Pooling
There are some important terms you should be aware of. Some seem less restrictive then other loyalty programs and others are more restrictive. Here are the notable ones (full terms at the bottom of the World of Hyatt point combining form):
Member may combine the necessary number of points from their World of Hyatt account with those in one other specifically designated World of Hyatt account in order to have a sufficient number of points to redeem a particular award.
A single member may only participate in a point combining transaction (transferring or receiving of points) once every 30 days. In order to combine points, the following requirements must be met:
Once issued in the designated member's name, the member transferring the points will relinquish all rights to the combined points.
Only the number of points necessary to redeem the specific award for which the transfer is being requested may be combined. (This has not been enforced to my knowledge unless you are a serial transferer)
The once per 30 days rule is the most important thing here. If you give or receive points then your account is locked up for 30 days as far as transfers are concerned. There is no limit to the amount of points you can transfer, like we see with Hilton, but people that do them regularly or in massive numbers have been put under more scrutiny. Best not to abuse this privilege. The requirement to book an award right away with the points is not enforced.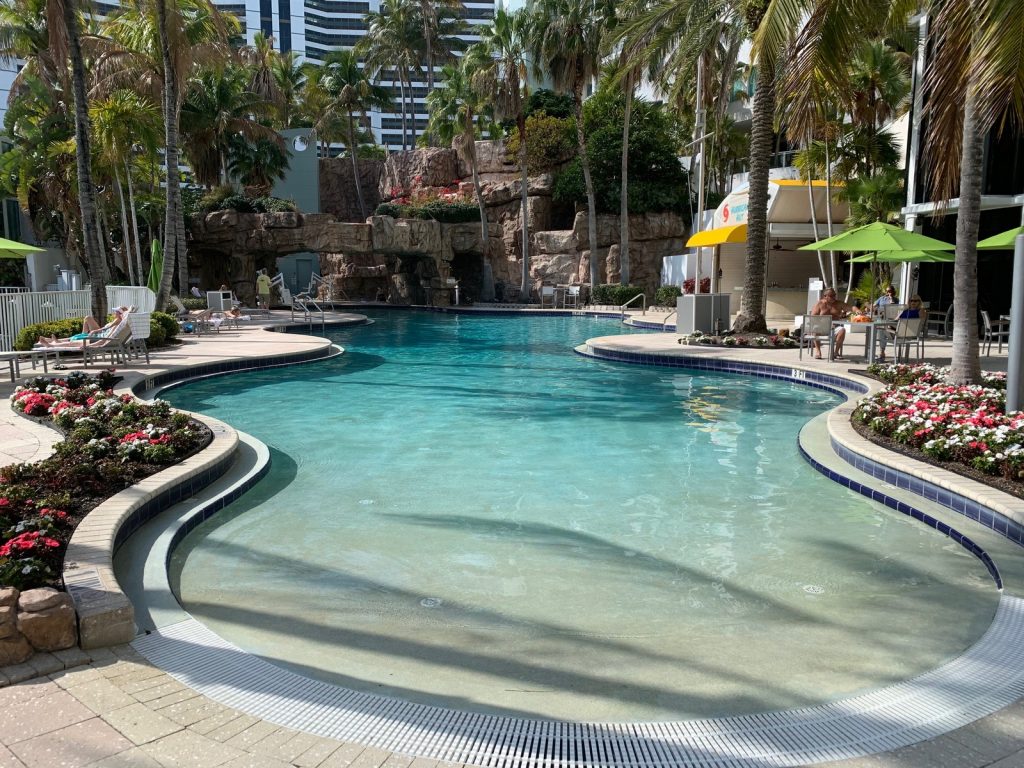 How Long Does The Points Transfer Take?
Now that we know how to combine Hyatt points we need to discuss how long it takes. This is where Hyatt lags behind some of the competition. If you remember from my Hilton points pooling post the points went through pretty much instantly. Hyatt transfers do not happen in the same way. As you probably guessed, by filling out a form like it is 2002 this process is not automated. Someone in a basement somewhere needs to manually input these. I had hoped this process would be moved online by now but here we are.
I should note if you have a concierge from hitting the 60 night milestone (sorry Globalist lites) then you should process this through your concierge. They can get it done as quickly as a day but usually no more then two or three days.
If, like me, you have to submit the form by email then it can take some time. It seems like these are processed in batches. So if you get lucky enough to time it around the next batch then it could be a shorter time frame, like my last one. If not, then it can take much longer, as it did for me last year.
Most Recent Hyatt Points Combining Timeline
Here is the timeline for the Hyatt points transfer I just did:
Emailed the form on June 12th at 8:30 PM ET
Received an automated email response about 15 minutes later saying they received my email
The points were transferred on June 18th at 10:30 PM ET and an email sent confirming it
All in all, a pretty quick turnaround. It was surprising that the points came through on a Sunday night. Not only that but a Sunday night of a holiday weekend for many.
Here is the timeline from my transfer last year that took for-ev-er:
Initial email sent with form attached on 9/7/22
Follow up email sent, with same form attached, sent 9/19/22
Third email, with the same form attached, sent 10/4/22
Points finally transferred to my account on 10/15/22
As you can see here the things did not go so smoothly last year. It took over a month to get my points instead of in under a week this year. Once again the points were deposited over a weekend, on a Saturday night this time.
Data Points From Elsewhere
I did some digging online for data points and the timeline to combine Hyatt points seems to be in the 1 week – 4 weeks time frame most of the time. The average being right around two weeks. Some people get them as quickly as two to three days though.
As I said above, I believe they are done in batches and it is somewhat luck of the draw. My guess is they have an intern or someone in the doghouse doing busy work on the weekends.
How To Combine Hyatt Points: ToP Thoughts
I love that you can combine Hyatt points with other World of Hyatt members and that they do not need to be a family member or in the same household to do it. I just took advantage of this with my mother since she needed some flights booked and I needed some Hyatt points. We did a little horse trading as they say. Luckily, the points posted to my account pretty quickly this time around and I was able to book our Hyatt in Maui thanks to Derrick's award alert. If you need this for an immediate booking then I wouldn't count on it since the transfer will normally take one to two weeks to process, and sometimes several more than that.
The big rule to remember is you can only give, or receive, points once every 30 days. So be sure to plan accordingly.