Considered one of the most iconic properties in the World of Hyatt program, award travelers have become enchanted (some might say obsessed) with Alila Ventana Big Sur. Located in one of the country's most beautiful state parks and offering a luxury, all-inclusive experience, there are tons of reasons why Ventana has created a cult following. After almost 2 years of delays due to COVID, we were fortunate enough to travel to this property recently and share our thoughts.
Location
Alila Ventana Big Sur is located approximately 1,000 feet above sea level on the iconic Highway 1, known as the Pacific Coast Highway. It is a 45-minute drive to the nearest regional airport, Monterey Regional Airport (MRY), and between 1.5 and 3 hours to the Bay area airports, SJC, SFO or OAK.
Once Highway 101 gives way to the more scenic Highway 1, you are in for a real treat. In fact, the drive to Ventana is as glorious as the hotel itself. If you have time, consider spending a day or more in Monterey, Pebble Beach, or Carmel-By-The-Sea. You can drive the iconic 17 Mile Drive through Pebble Beach and see some of the most famous shoreline in the world.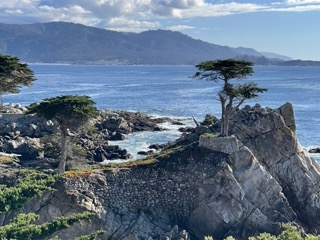 We took our time driving down, stopping for the night north of Monterey. We then explored Monterey, drove all of 17 Mile Drive, and casually drove to Ventana that afternoon. On the way back, we spent time in Carmel and Monterey. Both towns are fabulous.
The Property
Alila Ventana Big Sur is a Category 8 Property within the World of Hyatt program. Standard rooms cost 40,000 points per night for standard, 35,000 points per night for off-peak, and 45,000 points per night for peak. Standard suites cost 56,000/61,000/66,000 points per night, and premium suites cost 70,000/80,000/90,000 points per night. The property is all-inclusive, sans alcohol or certain activities, and is adults-only.
The property has an exercise room. For everyone utilizing Peloton credits on the Chase Sapphire Preferred or Chase Sapphire Reserve, there are 2 Peloton bikes available in good condition. (Offer may no longer be available).
The property has 2 outdoor pools (both heated), a hot tub, and Japanese baths. Note that the Japanese baths and the outdoor pool nearby are both clothing-optional. But we did not see anyone exercising this option. The pools are spacious, but not warm enough to spend time in them in 50F weather. If one wanted to swim laps or do an aerobics class, the water temperature was sufficient.
Surprisingly, the restaurants were limited during our stay. There are usually food options at the Social House, which is the lobby/check-in area, and at the Smokehouse, which is a a BBQ joint right on Highway 1. Neither of those were open during our stay over New Years Eve, so all meals were served in the Sur House, which also has ocean view dining. Have no fear, however, there were tons of options and we really enjoyed the food.
Included in the all-inclusive rates are yoga classes, a daily guided hike around the property, all meals at the Social House, the Sur House, the Smokehouse, in-room or poolside dining and daily snacks. Note that gratuities are included in the rate, but a 22% service charge is added for pool and in-room service of alcohol. For a fee, you can enjoy the full-service spa or do fun activities such as the falconry experience.
Our Stay
The Room
We ventured to Ventana Big Sur for New Years' Eve Weekend 2022 after originally booking the same weekend for NYE 2021. Unfortunately, that fell through due to California's restrictions in December 2020 banning any guests from out-of-state for leisure travel. Our dates reopened for NYE 2022 on January 8, 2021 and we rebooked. Rates for our stay were $8,827.18 for a standard room. So we instead used 90,000 Hyatt points to book 3 nights (30,000 per night). This was, of course, before Ventana moved to a Category 8 hotel later in 2022.
Mid-year 2021, a standard suite became available with points and we applied a Suite Upgrade Award (SUA). The SUA earned us an upgrade to the Big Sur Suite. For those unfamiliar with the World of Hyatt, members receive one or more Suite Upgrade Awards  for staying 50, 60, 70, 80, 90 and 100 nights in a calendar year. Each Award can be used to confirm a suite for up to 7 nights per award and the suite is confirmed as soon as the Award is applied.
We were assigned Room #50. From comments in our Facebook group, this is a very popular room for Hyatt Globalists, as it is a frequent upgrade available at check-in. As the hotel was completely sold out for NYE, we are thankful that we applied a SUA in advance. This room includes a very large porch, complete with a hammock, and overlooks the Mountain Pool (pictured above) and the Pacific Ocean. It is almost 700 sq. feet and more than enough space for 2 adults.
Overall, we really enjoyed the room. The bathroom was very spacious, the leather chairs by the fireplace were comfortable, and the fireplace and back porch were very relaxing. We spent much of our 3 days at Ventana hiding away in our room and we were perfectly fine doing so. One complaint was the fireplace: there is no wood to burn. Instead, you are provided small "firebags" to ignite and burn. While they worked well, they burn in 30-45 minutes and we were only provided 2-3 per day. We had to text the hotel concierge every single day to have 4-8 more bags delivered. This may not be a concern for most folks. But we were there to hike in the mornings and then relax in the afternoons. With temperatures between the upper 30s and low 50s, we wanted a fire from early afternoon until we went to bed. 1 to 1.5 hours of fuel doesn't seem adequate, but I digress.
The Food
Regarding food, we really, really enjoyed this aspect of the stay. While the Sur House was the only restaurant available, the food was very good and there were enough choices to keep things interesting. Dinner required reservations and included an appetizer, entrée, and dessert. The Sur House has a massive wine cellar with over 10,000 bottles (allegedly). I did not see a cellar that was larger than 1,000 bottles and the wine selection was adequate, but certainly not what one would expect from a venue touting a 10,000+ bottle inventory. Overall, the food quality was certainly not Michelin-star worthy, but was as good, or better, than your favorite restaurant in your hometown. We have no complaints with the food quality, the portion size, or the service.
The Amenities
For activities and the property, there's not much left to say. The entire property is world-class. The views of the Pacific Ocean take your breath away, as do walking through the forests of Redwood trees. We thoroughly enjoyed our morning hikes, exploring this property, and taking a step back from day-to-day life and relaxing. The pools, Japanese baths, hot tub and hiking trails seemed virtually empty the entire stay, despite the hotel being at full capacity. Even when booked solid, the property has an overwhelming sense of privacy and serenity. It's as if you're at a private estate.
One note about the amenities and the property: there is little to do here if you have mobility restrictions. There is golf cart-style transportation around the property and that is a big help. Otherwise, the Sur House, where all meals were served during our stay, is between a 0.3 and 0.5 mile walk each way. We loved this time to walk through the woods, but it is certainly not for everyone.
Perks
As a Hyatt Globalist, valet parking was free. Otherwise, there was no status recognition to speak of. All meals were included already, as were daily snacks and water. The hotel was sold out and we were not upgraded from our confirmed suite. All of this can be expected, and we certainly aren't complaining. More of a FYI if you are a Globalist and heading to the property. Do not expect much of anything, especially when the hotel is at, or close, to capacity.
We did receive a cheeseboard and a bottle of wine upon check-in. We later learned this was a combination of a very thoughtful friend, and Travel on Point(s) member, and the food & beverage director at the hotel. It was a lovely touch and we very much appreciated the gesture.
One disappointment was on the day of checkout. We messaged the Hotel before 10a.m. to inquire if we could checkout at noon. The standard checkout is 11a.m., but Globalists are entitled to a late checkout up to 4p.m., if space allows. The Hotel promptly responded that all rooms are taken and we must be out by 11a.m. Really? When checking out on Sunday of a Friday-Sunday holiday weekend, I find it truly hard to believe the entire resort was full that night. It didn't make us change our plans, but it did create a rush to finish breakfast.
Cost/Earnings
As mentioned previously, our standard room was $8,827.18 for our 3 nights. Once we confirmed the Big Sur Suite, that price ballooned to almost $14,000 for the holiday weekend. Instead, we used 30,000 Hyatt points per night, for a total of 90,000 Hyatt points and applied a Suite Upgrade Award. We earned our Hyatt points via our World of Hyatt credit card, our Chase Sapphire Preferred, Chase Freedom Unlimited, Chase Freedom Flex, Chase Ink Cash, and Chase Ink Unlimited. Remember, one of the major perks of the World of Hyatt program is that Chase Ultimate Rewards transfer 1 to 1 to the World of Hyatt.
If you're new to World of Hyatt, signing up for a Chase Sapphire Preferred, for example, could get you 2 nights at Alila Ventana Big Sur. Or a Chase Ink Business Preferred could get you 4 nights, once the minimum spend is reached.
Conclusion
Suffice it to say that we loved our time at Ventana Big Sur. We are already monitoring the schedule and plotting our next stay. For us, 3 nights is the perfect amount of time to explore the property and spend time unwinding and relaxing. While the adults-only aspect of the property make it difficult for some parents to venture here, it is well worth the effort, if you can find childcare.
The food, the service, and the location are all close to perfect. If you go, you'll long to return. I know we are.
Have you been to Alila Ventana Big Sur? What do you think? Come over to Travel on Point(s) and let us know!
Travel on Point(s) has partnered with CardRatings for our coverage of credit card products. Travel on Point(s) and CardRatings may receive a commission from card issuers. Opinions, reviews, analyses & recommendations are the author's alone, and have not been reviewed, endorsed or approved by any of these entities.