Am I eligible for business cards? With absolute certainty, we answer this question "probably." Sure, anyone and everyone can fill out a bank application and write down half-truths, broad embellishments or outright lies. For us at ToP, none of these are acceptable in day-to-day life, much less when requesting accounts from financial institutions. So, again, can you apply for a business card? Probably, yes. The requirements for approval are often more lenient (yes, you read that correctly) than personal cards. Thinking about it, this makes sense. You can't get a high-end personal card without income (especially for a card like the
CSR
and its $10,000 minimum credit limit) or without established credit history. However, if you decide to start a side-business, you have no income until the business is up-and-running. Even without any income, you will likely have start-up costs. Banks understand this and can approve you with minimal business income.
What Counts as a Business?
With this in mind, almost anyone can apply for a business card. If you drive for Uber/Lyft, teach music/dance lessons, babysit, walk dogs, sell on Ebay/Etsy/Pinterest, own rental properties, have a buying or reselling interest, or do anything else that earns you income (however big or small) that is not included on the W-2 from your employer, you are the type of small business that banks want! You do not need to have an established LLC, LLP, Partnership, DBA, etc. You can simply apply as a sole proprietorship without any recognized business status.
How do I Apply for a Card for my Small Business?
The simplest, most hassle-free way to apply for any business credit card is to apply as a sole proprietor and use your legal name as the business name. For example:
Business Name
: John Doe.
Business Income
: List Current or Expected annual business income.
Tax ID
: Enter John Doe's SSN. It is important to note that for Business name, you use ONLY your legal name. In our scenario, do not list John Doe's Doughnuts, John Doe, LLC, John Doe d/b/a anything.
Your Name and nothing else
. Then list your business income, however big or small. Know that anything you put on an application may need verification if you ever undergo a financial review, so be completely honest in filling this out. If you haven't even begun your business activities, you can estimate your income. There is no harm in starting very small (as low as $500 or $1,000). Lastly, enter your SSN. Many applications then ask for your personal income as well.
Which Business Cards are the Best?
So there you have it. You, like most everyone else, are likely eligible for business cards!! So, where do you begin and what are the best business cards? Like everything in life, "best" is subjective and is in the eye of the beholder. As you have seen in our "ToP Cards under 5/24" for this month, Chase offers numerous business cards that offer incredible value. If you are eligible for a business card, and are
under 5/24
, the Chase Ink cards are the "best" cards for you!!! We quickly walk you through the three Ink cards that earn Chase Ultimate Rewards, which are the first business cards you should consider.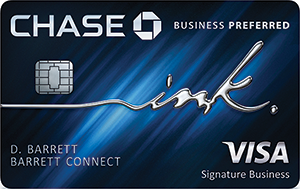 The
Chase Ink Business Preferred®
is THE business credit card to grab while under 5/24. It offers a 100,000 Ultimate Rewards sign-up bonus
after spending
$8,000 in 3 months and has a $95 annual fee. This SUB is the most generous transferable currency sign-up bonus in the industry, except for the
Business Platinum Card® from American Express
that (typically) requires a $15,000 minimum spend and has a significantly larger annual fee of $695. For the Ink Preferred's $95 annual fee, you earn 3x up to $150,000 per year on charges for travel, online advertising, shipping, and internet, cable, and telephone services. All other charges earn 1x. Holding this card also allows you to transfer URs to Chase's 14 travel partners, like you can with a
CSP
or a
CSR
. This card is a long-term keeper. You can read our full review
here
.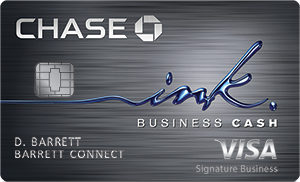 The
Chase Ink Business Cash®
is known as the best or 2nd best no-annual fee business card on the market. It now offers an all-time-high offer of $900/90,000 Ultimate Rewards sign-up bonus
after spending
$6,000 in 3 months and no annual fee. Sign me up! Better still, the
CIC
earns 5x at office supply stores and on internet, cable and phone services up to $25,000 each year. It also earns 2x at restaurants and gas stations up to $25,000 each year. Thereafter, and all other charges, earn 1x. Note that this card technically earns "cash back." However, if you hold a
CSP
,
CSR
or
CIBP
, the cash back earnings are URs and can be used in the Chase portal or transferred to partners. As you can go to Office Depot or Staples and buy gift cards (for 5x) for almost anything you want to buy (airlines, hotels, restaurants, grocery stores, Visa/Mastercard/Amex gift cards, etc.), this card is also a long-term keeper. You can read our full review
here
.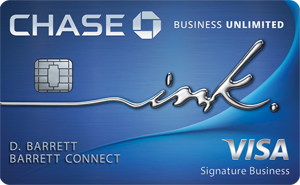 The
Chase Ink Business Unlimited®
  is the often-forgotten third Ink card. The
CIU
now also offers an all-time-high
$900/90,000 point sign-up bonus
after spending
$6,000 in 3 months and no annual fee. This card is as simple as they come: every dollar you spend earns you 1.5x on all spend for your business. No caps, no bonus categories, no tricks. 1.5 UR for every dollar spent on every single purchase. The CIU is also technically a "cash back" card, but with a
CSP
,
CSR
or
CIBP
, the URs earned can be used in the Chase portal or transferred to Chase's transfer partners. With no annual fee and 1.5x on everything,
once you have this card
, there's really no reason to ever get rid of it. You can read our full review
here
.
General Tips for Chase Business Cards
First, those under 5/24 should typically apply for the Chase Inks in the order presented above, unless the
CIBP's $8,000 minimum spend
is
too much
for you. There is no guarantee that Chase will approve you for one business card, much less all three. Go for the
CIBP's 100,000 UR
sign up first and you can always downgrade to a no-annual fee card later, if you aren't approved for one or both of the others. However, with the 90,000 point offers on the CIC and CIU, you can grab those first. Second, while Chase has a 2/30 rule, meaning you can only be approved for 2 Chase cards in a 30-day period, Chase has a 0/30 rule for business cards. Unless it has been more than 30 days since your last Chase application, your application is denied automatically. Make sure you are 0/30 before applying for a Chase business card! Third, and most important, be honest. So many bloggers toe-the-line on encouraging their readers to do anything to receive business cards. We are not those bloggers. If you don't have a business (and, again, it can be a tiny business that has yet to receive any revenue), DO NOT apply for a business card and DO NOT lie on an application. PERIOD. So there you have it. Assuming you qualify for a business credit card, you now know where to begin. As always, please give us your feedback in the comments below or in our
Facebook group
.
Travel on Point(s) has partnered with CardRatings for our coverage of credit card products. Travel on Point(s) and CardRatings may receive a commission from card issuers. Opinions, reviews, analyses & recommendations are the author's alone, and have not been reviewed, endorsed or approved by any of these entities.