American Express's Membership Rewards is one of the most valuable transferrable points currencies out there. Transferring MRs to Amex's many hotel and airline partners gives you the most value for your points. Like other transferrable currencies, MRs offer a lot of flexibility and outsized value through its many travel partners. Transferring MRs can look daunting at first, but it's actually quite simple. This post walks you through how to transfer MRs to airline and hotel partners.
Earning MRs Across Different Credit Cards
Amex offers a lot of cards that earn valuable Membership Rewards. In addition to lavish welcome bonuses, Amex is pretty generous with retention offers and with bonuses for adding authorized users to their cards. No award traveler should ever be lacking MRs. Some our favorite Amex cards at ToP include the American Express Gold Card, the Platinum Card from American Express, and the Business Platinum Card from American Express.
Conveniently, Amex pools all of your MRs together from your different cards. This goes for both personal and business cards. No matter how many MR-earning cards you have under the same log-in, Amex tracks all of your points together in a single pool. This differs from Chase, where you have to combine your points from among your cards before transferring to a partner.
Transferring MRs to Travel Partners
Transferring MRs is pretty straightforward. The process is the same whether you are transferring to an airline or hotel partner.
From the Amex homepage, you have two options. You can either click "Rewards & Benefits" from among the tabs at the top of the page, or click "Explore Rewards" on the right-hand side. Both will lead you to the same place.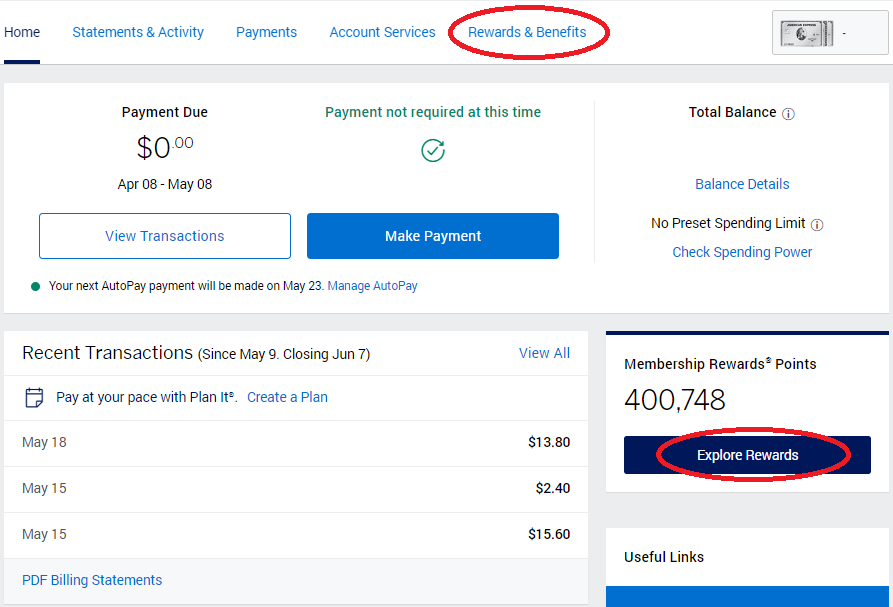 On the next page, click on the "Earn and Redeem" tab at the top of the page, and select "Transfer Points." This is the last option on the right-hand column.
The next page will display all of the loyalty programs that you have already to your Amex account, if any. Any accounts from authorized users that you have added will also appear here. You can sort the transfer partners between airlines and hotels if desired. Also, this page will show any existing transfer bonuses.
If you want to transfer to a loyalty program you have not transferred to before, you will have to first link that loyalty account. To do so, click on the loyalty program you wish to link. To transfer points to a loyalty account, select the program you wish to transfer to from the list of options. In this example, we'll transfer some MRs to British Airways. (Remember, we at ToP do not recommend transferring points speculatively, even if a good transfer bonus is available. Make sure you have a redemption in mind to actually use those points.)
Once you click on your desired program, Amex will show you the transfer ratio and any existing bonuses. Amex will also display any limitations on transferring. Here, it shows a maximum transfer amount of 999,000 points. You can insert the number of MRs you wish to transfer. The form automatically displays the number of loyalty miles your transfer will yield. If there is an applicable transfer bonus, it will be reflected on this page. Click "Review Transfer" to proceed.
The next screen asks you to confirm the transfer amount. Click "Submit Transfer" to proceed. You will then have to verify your card membership. Amex typically requires you to provide the three-digit security code on the back. This might be annoying, but it's a helpful way to guard against unauthorized points transfers. The confirmation page then shows you the number of points transferred and your remaining MR balance. Your points have now been transferred! Transfer times do vary among partners. The ToP Partner Transfer Tool shows how long transfer times usually take for each partner. Transfers to brand new accounts can take longer than usual. This is why we recommend
setting up loyalty accounts with airlines and hotels ahead of time
. Instant transfers should show up on your loyalty account within seconds (you might have to log out and back in). Transfers to a few partners may take some additional time. Remember that all points transfers are final. And you cannot transfer points or miles for a hotel or airline program to Amex (or any of the other banks).
Final Thoughts
Redeeming MRs through transfer partners can yield
incredible value
for your points. It's nice that Amex allows you to link and transfer to loyalty accounts belonging to authorized users. This is a helpful way to get around the fact that Amex doesn't provide a means of transferring MRs between members, even for those in the same household. Which are your favorite Amex transfer partners? Come share your thoughts in our
Facebook group
!
 Travel on Point(s) has partnered with CardRatings for our coverage of credit card products. Travel on Point(s) and CardRatings may receive a commission from card issuers. Opinions, reviews, analyses & recommendations are the author's alone, and have not been reviewed, endorsed or approved by any of these entities.