Paying Taxes With An Amex Card
One of the beautiful things of the award travel game is making lemonade from lemons. This is often true at tax time, when award travelers earn a lucrative sign up bonus by paying their taxes with a new credit card. But what about paying taxes with an Amex card? Lately, rumors are flying that paying taxes on an Amex card does not count towards the minimum spend for Amex welcome offers. The ToP team investigated this issue in hopes of being "the data point you wish to see." Here are our results.
The Myth
In early 2023, rumors starting swirling that American Express had changed its terms and conditions. These rumors alleged that paying taxes with an Amex card no longer counted as spend to reach a welcome offer on a new card. Unfortunately, most of these rumors came from Amex representatives. Over and over, we saw similar data points in our Facebook group that Amex representatives indicated Federal Tax payments do not count.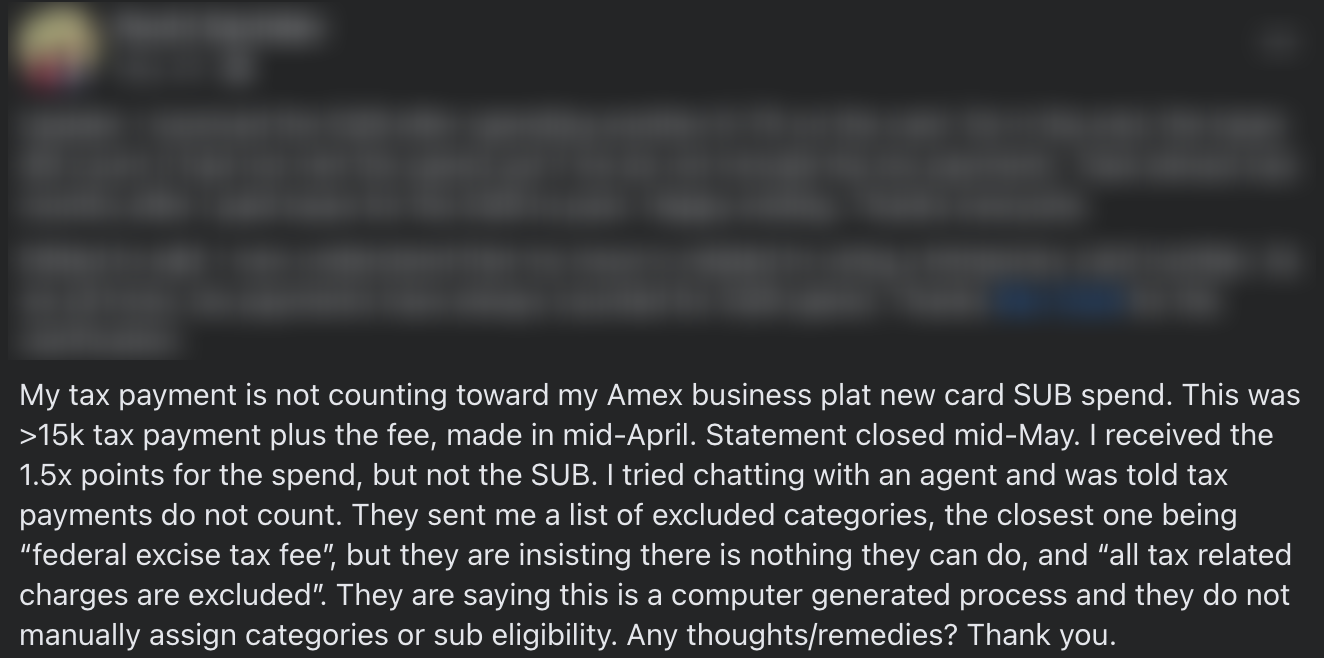 It kept going and going. Data point after data point rolled in.
Diagnosing the Actual Issue
As more and more data points rolled in, the ToP team continually asked questions to try and identify the problem. Tons of data points indicated tax payments DID count towards the spend requirement for welcome offers. So what was the difference?
In early April 2023, ToP concluded that the actual culprit was Amex temporary cards. For those unfamiliar, Amex temporary cards are a digital card number usually given to you at the time of a card approval. The spend on temporary cards seemingly disappeared and did not register in Amex's systems for the welcome offer. This did not seem to happen with spend on the physical cards. Therefore, we cautioned folks to avoid spending on these temporary cards until this issue was resolved.
Nevertheless, these problems persisted long after our article. As recently as June and July 2023, Amex reps told ToP members that paying taxes does not count for a welcome offer.

Our Data Point: Paying Taxes with an Amex card
ToP wants to give you first-hand experience on all possible issues. With that in mind, I opened a new American Express Business Gold card on July 11, 2023, via a no lifetime language offer. I received the physical card in the mail on July 18 and immediately activated the card. On July 21, I paid a $12,000 pay payment via payUSAtax.com. Other than the convenience fee for using a credit card, I had no other transactions on the card.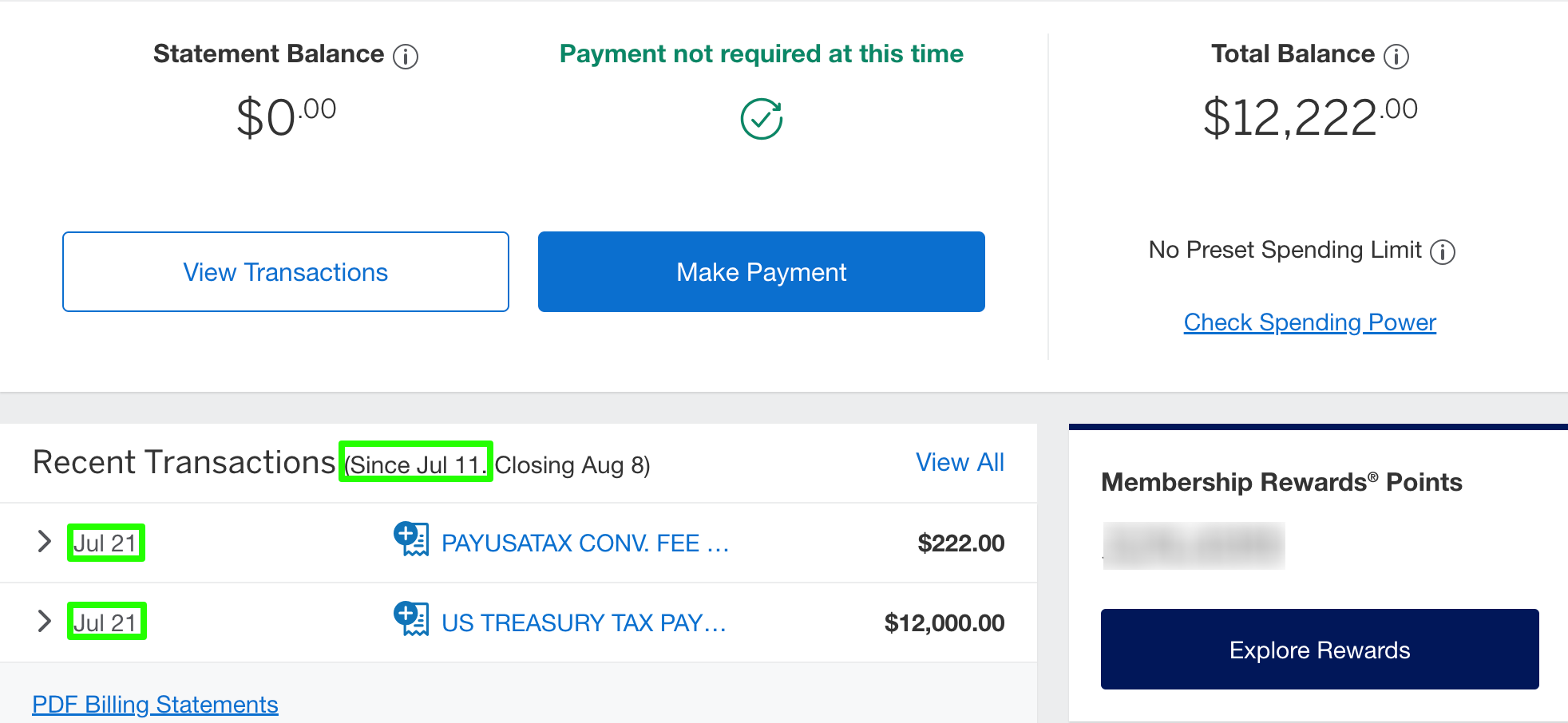 Then I waited. Frankly, I expected the spend to count. Despite what "experts" on youtube and Instagram indicated, there was never any credible evidence to support the myth that tax payments do not count for a welcome offer.
Shockingly (okay, I'm actually not shocked at all!), I received my welcome offer on July 27, exactly 6 days after I paid the taxes and convenience fees . Again, these were the only charges on this card since account opening.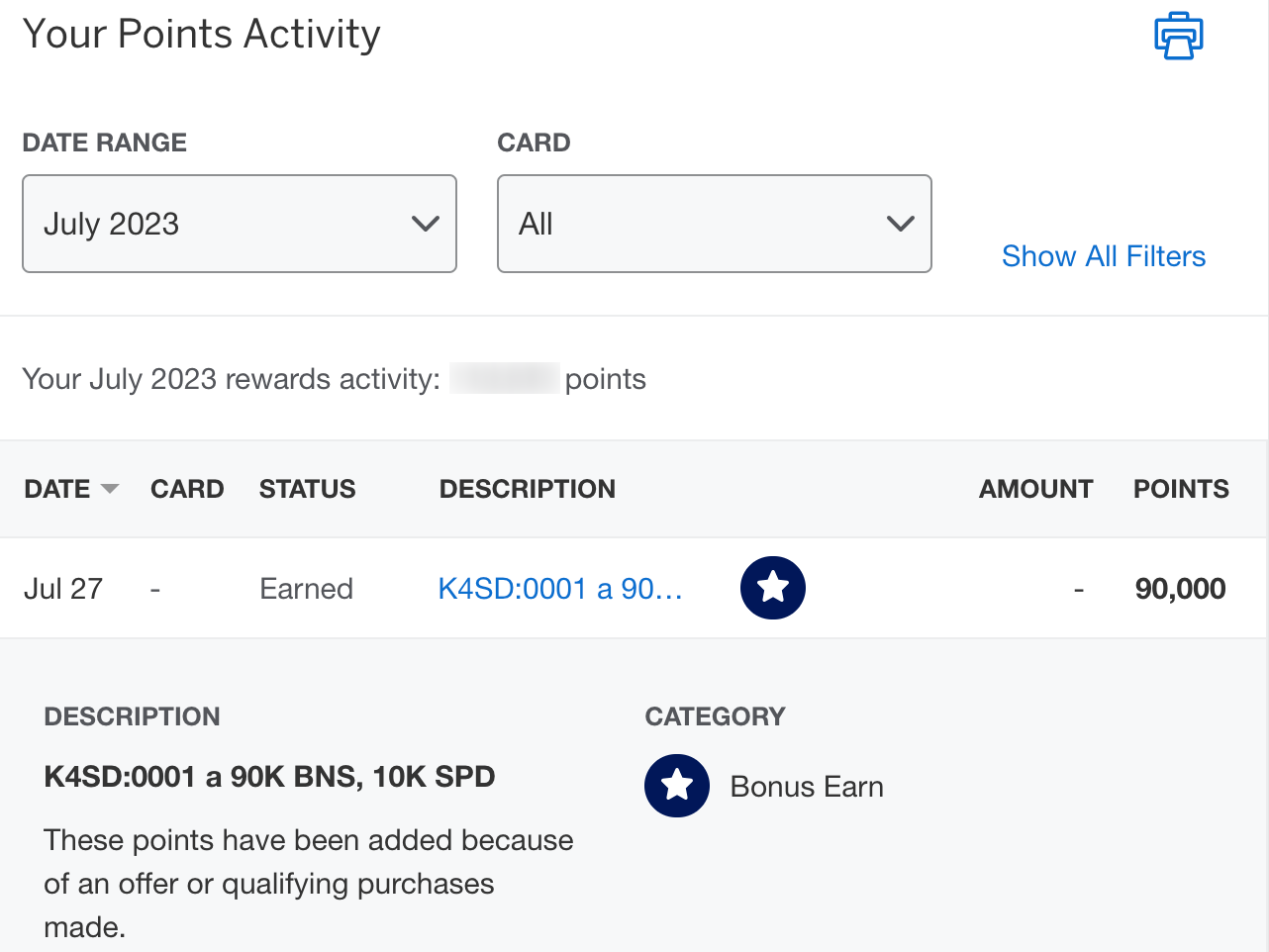 Paying Taxes with an Amex Card: ToP Thoughts
As expected, the rumors that paying taxes on an Amex card do not trigger a welcome offer is a MYTH. And that myth is FALSE. Moving forward, do not use your Amex temporary card numbers, but tax payments (and most all other spend) will count towards an Amex welcome offer when completed on a physical card.
Do you have any questions? Do you have any data points you want to share? Come over to our Facebook group and let's chat.