Tips for Traveling on Points with a Family
Traveling on points with a family can seem daunting at first. Having more people in your party means having to find more award seats, additional hotel rooms, etc. But it's not impossible. Thousands of members in the Travel on Point(s) Facebook group travel on points with their families and you can too. In this post, we will share some additional tips for traveling on points with a family (or for anyone with a larger group). Don't be surprised if at the end of this post you conclude that these tips really apply to anyone traveling on points, because they do!
Special thanks to ToP team member Devvon Newman for help with this post.
Tips for Finding and Booking Award Flights
The underlying principles to successfully booking award trips are the same whether you're traveling solo, as a couple, or as a family. So if you haven't reviewed our Award Booking Guide or our ToP 10 tips for booking flights with points, then make sure to read those too.
Focus on Lesser-Known Routes
Lesser-known routes tend to face lower demand. Often, these routes fly to smaller airports that you would not expect. For example, in addition to searching for flights on Air France out of major airports like Atlanta (ATL) and Washington Dulles (IAD), you can expand your search to smaller airports like Raleigh-Durham (RDU), which also offers non-stop service to Paris (CDG). Similarly, Turkish now flies non-stop between Istanbul (IST) and Detroit (DTW).
Flying through a smaller airport not only eases the competition for award seats, but it can also be an easier connection with little ones instead of trekking through a large airport like New York (JFK).
Be Willing to Position on Both Ends of Your Trip
We all want a non-stop flight out of our home airport. But when there isn't availability, expanding your search to other airports can be helpful. This is called positioning.
For example, if you want to fly to Europe out of Atlanta (ATL) but you're not finding any availability out of ATL, you can consider flying out of Miami (MIA) or Washington (IAD), among others. The same goes for arriving at your destination. If you want to fly into Rome (FCO) but aren't finding availability directly into FCO, you can look into flying into Paris (CDG), Amsterdam (AMS), Frankfurt (FRA), etc.
Positioning opens up more opportunities for you and your family. Instead of limiting yourself to the handful of routes out of your home airport, you can now grab seats on flights leaving from other major airports, expanding your options.
Consider Splitting Up on the Flight
If you're a family of 4 or more, consider taking turns flying up front in business or first. Maybe one parent flies with one kid in business on the outbound and the other parent flies with the other kid in business on the return flight. This way, everyone gets to enjoy a special experience while being on the same flight.
Once the kids are older, they can even sit by themselves in premium economy or economy while the parents sit up front. If the kids ask why, remind them they can't drink champagne yet!
Some families are also open to splitting up their itineraries and traveling on separate flights. This of course is much easier when the kids are a little older.
Pay Attention to the Airline's Lap Infant Policy
Different airlines and their loyalty programs treat lap infants differently. Virtually every airline considers children under 2 years of age to be a lap infant. That means that child is not required to have their own seat, but you may still purchase them a seat if you wish. Lap infants fly free domestically on all US airlines, and you can add them to your reservation ahead of time or at check-in at the airport. Many airlines let you do it online, but some require you to call.
Policies vary a lot when it comes to award flights booked through foreign carriers' loyalty programs. The best program for booking lap infants is Air Canada Aeroplan. They charge only $25 Canadian dollars or 2,500 miles to add a lap infant to your booking. The price is the same regardless of class of service or operating airline.
Virgin Atlantic is another viable option. They charge 1,000 points to add a lap infant in economy, 3,000 points in premium economy, and 5,000 in business class, plus applicable taxes and fees.
Some airlines charge lap infants 10% of the cash cost of an adult ticket on the flight. This can get very expensive quickly, especially on an award booking in business or first class. Air France/KLM's Flying Blue program is among these.
Tips for Earning and Saving Points
Here are some different ways you can save some miles and points for your family travels.
Everyone can Earn Miles and Points
Make sure to create loyalty accounts for all the members in your family and use these accounts when paying for cash fares. Everyone can earn miles when flying on a cash ticket as long as they have their own seat. Don't leave these miles on the table when booking cash fares for members of your family! And remember that you can use miles in a loyalty account to book a flight for someone else.
Unfortunately, you do not earn miles when traveling on award tickets.
Pool Your Points and Miles Together Where You Can
Some airlines and hotel programs allow for pooling among family or friends. JetBlue is the only major US airline that allows for this, but British Airways and Air Canada allow it too, among others. Among hotels, Hilton makes pooling the easiest where you can do it all online. Hyatt requires you to fill out a form and submit it via email, and Marriott requires a phone call.
If you have any relatives who travel a lot for work but don't have a need for their hotel points, pooling them with yours can be super helpful if they're willing.
Add Your Children as Authorized Users to Your Cards
Adding your minor children as authorized users to your credit cards helps them start off their credit history from a young age. That is because authorized users get to essentially piggyback on the primary cardholder's history with that card. But how does this help you earn more points? Some banks, especially American Express, offer bonus points for adding authorized users! And of course, any purchases made with your child's authorized user card will earn points for your account too.
This is a great opportunity to knock two birds with one stone. You earn extra points while also helping your child build a solid credit history.
Take Advantage of Transfer Bonuses
Unfortunately, minors can't open their own credit cards in the US. This means parents need to redeem points for kids who can't contribute any points from opening their own cards! This is where transfer bonuses can help. If you don't quite have enough points for that non-stop flight out of your home airport, it could be worth opting for a connecting flight through an airline that is offering a transfer bonus.
As always, we do not recommend transferring points to take advantage of a transfer bonus unless you have an immediate redemption in mind.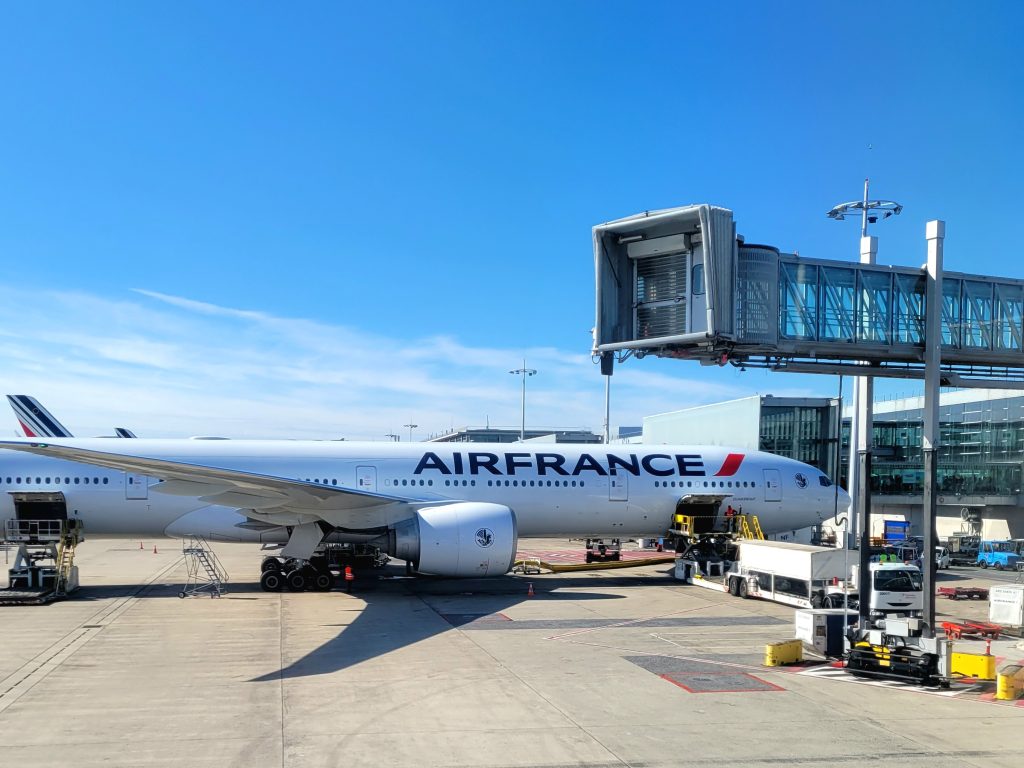 Tips for Hotel Bookings
Here are some family travel hacks that will help with the accommodation side of your trips.
Know the Hotel's Occupancy Limits and Cancellation Policy
Hotels abroad (especially in Europe) have strict occupancy limits. When searching for rooms, we recommend searching for just 2 people and then contacting the hotel to ask about cribs, rollaways, and occupancy limits.
Knowing the hotel's cancellation policy is just as important. If you book one hotel, but end up finding a better deal (or bigger room/suite) elsewhere, you want to make sure you can cancel your first booking without a penalty.
Proactively Reach Out to the Hotel
More space is always better when traveling with a family. So even if you don't have any status with the hotel, contact the hotel ahead of time to ask about possible upgrades to a suite. There is no reason to embellish your story, simply explain that you're traveling with X number of people in your party and would like more space. It's always worth asking how much the hotel would charge to upgrade to a suite. The cost of this upgrade can often be cheaper than booking a second room.
If you do agree to anything ahead of time with the property, whether it's a complimentary or paid upgrade, try to get it in writing via email. You never know who will be checking you in to the hotel upon your arrival.
General Tips for Traveling on Points with a Family
A few other helpful things we have learned along the way on our family travels.
Use the Right Credit Card to Offset Baggage and Seat Selection Fees
Checked bag fees can add up for a large family when traveling domestically. The same goes for seat selection. Thankfully, credit cards offer a way to help here. Multiple credit cards offer travel or airline credits that can be used to offset these fees. While we do not recommend opening a credit card solely for a single perk like this, if you already have any of these cards, you might as well use them wisely.
The easiest credit to use is the Chase Sapphire Reserve's $300 annual travel credit. You can trigger this with any airline purchase, even airfare. Multiple American Express cards offer airline statement credits for certain US airlines. Purchases such as checked bags and seat selection trigger these credits. For more information on how to use these Amex credits, check out our ToP Guide to Amex Airline Fee Credits.
Many airline credit cards offer a free checked bag for the primary cardholder and sometimes for one traveling companion or more. Make sure to review your card's benefits guide to understand the terms and conditions for this benefit. Also check out our ToP Guide to Checked Bag Credit Card Benefits.
Enlist Help from Family and Friends
Consider bringing another adult or two to help out on your vacation, including in the flights. If you have enough points, adding another person to your party is a lot more affordable than paying for another ticket or hotel room in cash. Consider bringing a sibling, other relative, or close friend. Even if they fly in economy, they're getting a free vacation!
Tips for Traveling on Points with a Family: ToP Thoughts
Traveling on points with a family has its added wrinkles but is not impossible. These tips for traveling on points as a family should help you and your family see the world and create lasting memories. Remember to consult our Award Booking Guide, our Transfer Partner Tool, and our list of current transfer bonuses. What are your tips for traveling as a family? Come share them in our Facebook group!