Hyatt Bonus Journey Gameplan
As I was sitting at the Hyatt House Nashville this past weekend I started thinking about end of the year elite nights and Hyatt Milestone awards etc. That is when it hit me, I hadn't put a Hyatt Bonus Journey gameplan together for the end of their latest promo. I had registered for it, and knew I would hit some bonuses, but I wanted to make sure I was maximizing it the most I could. Something I think anyone chasing status, or Hyatt Milestones, should do.
Hyatt Bonus Journeys Promo Fall 2023 Details
Here are the details for the offer, which you had to activate by November 10th.
World of Hyatt members can register to earn 3,000 Bonus Points for every three eligible nights completed after registration between October 6, 2023 and November 30, 2023 at more than 1,250 Hyatt hotels and resorts around the world, up to 21,000 Bonus Points under this offer.
World of Hyatt Credit Cardmembers can also earn an additional 1,000 Bonus Points for every three eligible nights during this time at hundreds of participating hotels in sought-after global destinations – including Australia, France, Japan, New Zealand and the United Kingdom – up to an additional 7,000 Bonus Points under this offer for cardmembers.
Both of these offers stack with the 500 Reasons to Stay Somewhere New Offer as well, adding a potential extra 500 points per night.
How Should We Gameplan This Promo?
Whenever a promotion like this comes up I like to make sure I register for it and then I kind of set it and forget it. Unless it is overly valuable and worth planning around, like the Bilt Hyatt Globalist promo earlier this year, that is how I like to handle these promotions.
Since this promotion wasn't worth going out of my way to hit, I kind of just let it play out. There were some adjustments to my travels and I think I ended up with more Hyatt nights then I initially expected during the promo period. Even though I take the set it and forget it approach I still like to circle back around and check on things when there are a few weeks left for each promotion. That is what I am doing here and I am bringing you along for the ride.
Circling The Wagons Before The End Of The Promotion
We know from above that you get 3,000 bonus points every three nights you stay with Hyatt during the promo period. It could be more than that with the 1,000 point cardholder bonus at select hotels and the 500 stay somewhere new promo, but I knew I wasn't hitting any of that.
Knowing that, what I need to do now is go back through the promo period (October 6th – November 30th) and see how many stays I have made so far. Then I need to take a peek at what stays I have upcoming over the next few weeks too. This lets me know if I should move around some travel or not to trigger that next 3,000 bonus points.
Previous Stays
Here are the previous stays I have had:
That gives me 8 nights so far during the promotion. I have earned 6,000 bonus points so far, and I am just one night away from earning another 3,000 bonus points.
Option 1: Should I Move Around Travel To Make This Work?
Once I realized that I was one night short I checked my schedule to see if I had any more stays before the promo ended (November 30th). Unfortunately, I didn't have any stays at Hyatt during that period. That is when I checked my other travel bookings to see if I had something booked with different points that would make sense to move over to Hyatt.
I did have a one night stay in Cleveland booked with IHG points. The cost of the room was 30K, which was a better deal than the 18K the Hyatt Regency wanted in town. As luck would have it, I now had a free night cert from my World of Hyatt card anniversary I hadn't had when I booked the IHG hotel. That made this an easier pill to swallow for sure.
I ended up cancelling the IHG stay and booked the Hyatt with my free night cert instead. I did that for a few reasons:
This allowed me to save 30,000 IHG points
The booking would use my cert at the top points level
It gave me free parking in the city because of my Hyatt Globalist status which would save me $40 – $50.
It would also trigger that last night I needed for a 3,000 point bonus.
Saving 30,000 IHG points, $40ish on parking and earning 3,000 World of Hyatt points made this the better choice for me.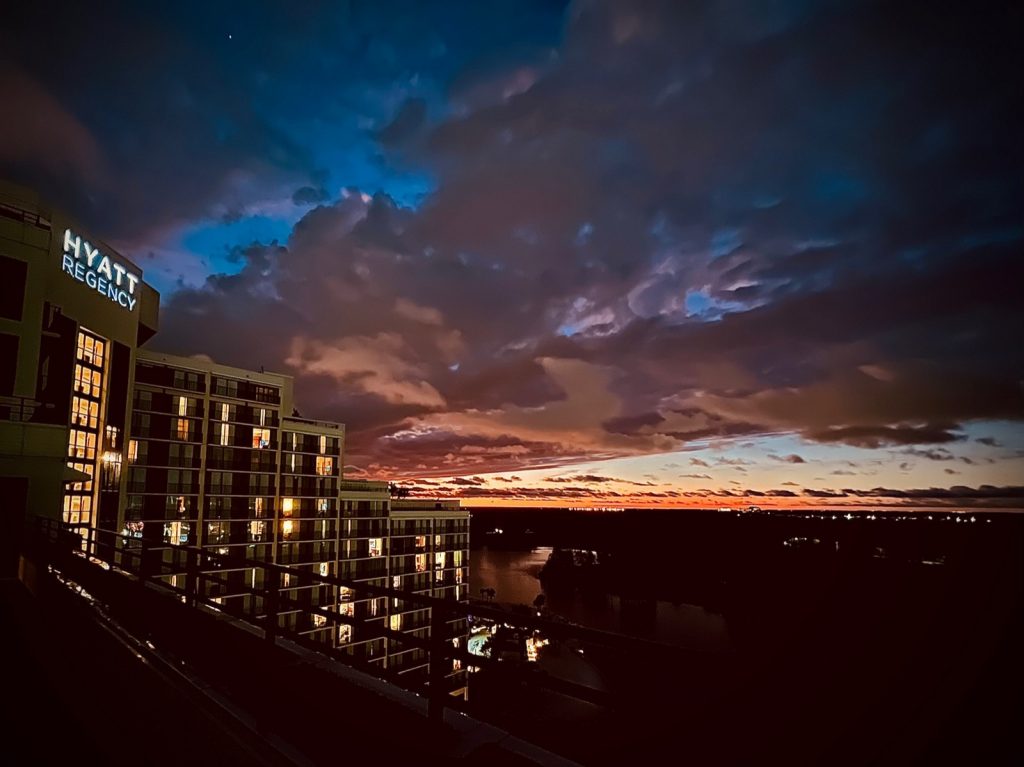 Option 2: Book A Discounted Night For Status
Had my planned travels not worked out my other option would have been to book a mattress run at one of the category 1 Hyatt Place hotels in my area. This would have been a way to trigger that 3,000 points and earn another elite night. My kids being able to swim with snow on the ground would have been a side benefit.
While burning 5,000 points, or maybe only 3,500 if off peak, to earn 3,000 points doesn't make sense on the surface, it can be a good deal if chasing status. If I hadn't moved around my Cleveland stay I would have ended up a night short from a 2 suite upgrade award milestone. Which are getting better by the day by the way. My original plan was to just spend $5,000 more on my credit card and earn the elite night needed that way. With the Bonus Journeys promotion dropping the cost of the room down to 2,000 points, or even 500 points, out of pocket for the elite night made it the better option for me. This only makes sense if you really need that extra night to help you hit the next perk or the next status level etc.
Hyatt Bonus Journey Gameplan: ToP Thoughts
Hopefully breaking down my Hyatt Bonus Journey gameplan shows you how to evaluate promotions to see if they work for you. Especially as the end date draws near. Sometimes paying attention towards the end of a so-so promotion can offer unexpected opportunity. We are all opportunity hunters at heart after all, aren't we?
Let me know how you plan on attacking the end of this Hyatt Bonus Journeys promotion over in the ToP Facebook Group.