The Waldorf Astoria Los Cabos Pedregal is the ultimate in luxury Los Cabos resorts. You enter via Mexico's only privately-owned tunnel. The room has thoughtful touches like a bottle of Clase Azul Reposado tequila to start your stay. Relax in your private getaway with spacious villas, casitas, or private homes, each with a private plunge pool and ocean views to calm and center you.
Booking
This Waldorf Astoria resort is a sought-after property in the points and miles community. It also can be hard to book. That is because the points pricing can vary and finding standard award availability can be difficult. The standard award rate here is 120,000 Hilton points. You can use Hilton's free night certificates for standard award nights.
I earned my certificates via my American Express Hilton Aspire card and my American Express Hilton Surpass card. For my three-night stay, I used two certificates and 120,000 in points. The cash rate for this stay would have been over $4,300 and often is above $5,000 when including taxes and fees. I recommend using Hilton's flexible date calendar search to find availability.
One thing to remember on flexibility: Hilton does not have a reliable IT system to adjust your booking. As an example, I had considered only two nights at one point. However, they would need to cancel and rebook with no guarantee of availability being open. You also need to cancel within 14 days of your stay for this resort.
Getting Here
The Waldorf Astoria is located about 45 minutes from the Los Cabos International Airport. You can arrange private transportation, which can be expensive. The recommended ones I looked started at $75 and went up to $150 round-trip. I found that not many providers were doing the shared services and many were private, which may have been a indication of the prices. Uber does not operate for pick up at the airport.
I did some research and decided to rent a car. Mexico requires mandatory liability insurance, which must be purchased regardless of what credit cards or coverage you may have. I chose to use Cactus Rent a Car, which was well reviewed and continuously recommended on popular online forums. They offered a flat rate per day and included the insurance, so no surprise fees at car pick up. I paid $180 for four days. The service was great and I experienced no issues. This also allowed me to venture out as well as stop at the store. There is a Walmart and Costco on the way and many local grocery stores.
Check-In
Upon arrival, I was met with a friendly greeting and a welcome margarita. My bags were quickly whisked away to my room by the staff. Meanwhile, I listened to a quick orientation of the property. The large open-air lobby area was recently remodeled. The odd part was we never actually made it into the check-in area and I was never asked to sign or show my credit card, although it was on file via my account and booking. Then, it was off to the room. My room was in building 6, one of the farthest buildings from main area of resort. The staff can send a golf cart upon request to give you a ride.
Room
I booked a standard room, which is a Pacific View King Bed. The room was large and spacious at just over 850 sq. feet. The long entrance hallway welcomes you with a complimentary bottle of tequila on the table as well as some fruit.
The first thing that caught my eye was the large plunge pool on the patio with the Pacific Ocean views.
The bathroom area included an open-air shower as well as a large soaking tub. I am not sure the purpose of the sitting chair next to the shower. The double sinks are always a favorite of mine.
The living area includes the king bed, nightstands, TV, and even a fireplace. I found the area to be spacious enough. Housekeeping was provided daily as well as nightly turndown service.
There is a small refrigerator with cold beverages. The beverages were complimentary and restocked daily. One of my favorite things was the resort's graciousness with complimentary beverages and water even at the pool.
Dining
The resort offers a variety of dining options, albeit limited. Prices will have taxes (16%) and gratuity (15%) added. You can view full menus here. Additionally, if you do have the American Express Aspire card, this resort qualifies to use your Hilton resort credit.
Breakfast
Breakfast is available at Don Manuel's. Diamond members receive a complimentary continental breakfast.
The odd part of all this is you can actually choose a regular breakfast time for an upgrade charge of $9. Those breakfasts are much cheaper ($22-24) than the continental breakfast ($31). It felt like a nickel and dime tactic for diamond members on a resort that charges $1,300 per night.
The breakfasts were all good and well presented. The staff was friendly and accommodating. The only issue may be waiting for your check, but this was common with all my dining experiences in Cabo.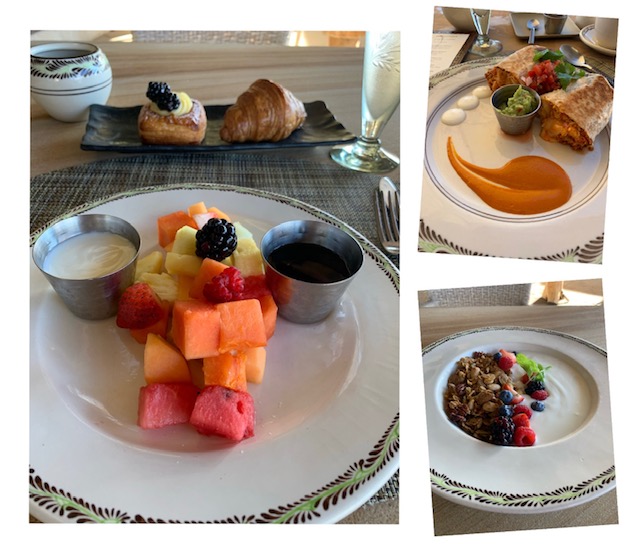 Lunch
For lunch, I dined poolside. The pool bar area is named Crudo and includes a raw bar with sushi and oysters and a variety of items. I played it safe with tacos and some melted cheese with chorizo. You can view the full menu here.
The pool service was fantastic from the time you arrived, throughout the day, and including dining. The staff brought complimentary bottled waters in a iced bucket that was routinely refilled throughout the day.
Dinner
I dined once for dinner and chose Don Manuel's once again. The food and service was exceptional during the meal. The only time it lacked was post dinner as I had an extensive wait to get my bill. The only other true dinner option onsite is El Farallon. I did chat with another guest who ate there and they stated it was only okay.
If you want to save money on food, there are several options in town and just a short walk away from the resort entrance. Ubers also operate in town and are not expensive. The resort will give you a ride to and from the resorts main gate if needed.
The Resort
In addition to the private plunge pool, there are three other pools on the property. One is an adult only pool and the others being family friendly. There is also a full spa available as well as a spa customer only pool area. You can review a full resort guide of services here.
The service poolside was amazing. From the moment you arrive, you are greeted by friendly, helpful staff. They get you set up with chairs and will even adjust your umbrella throughout the day for optimal shade. Waters were restocked and brought out at no charge and towels replenished. Since I was relaxing and enjoying the pool area for much of my stay, the service really stood out to me compared to other resorts and hotels I have visited.
The resort also provides onsite Covid testing for just $30 for a rapid antigen test for reentry to the US. Results are emailed quickly and printed copies are given at checkout. The resort does a great job of providing a reminder brochure of everything you need to exit the country.
Final Thoughts
I would absolutely stay at the Waldorf Astoria Los Cabos Pedregal again without hesitation. It was almost the perfect stay in a comfortable, relaxing setting with fantastic service and amazing views. As long as you are prepared for the prices and knowing your alternative options, I think this is a great choice. Not only one of my best redemptions using certificates and points, but one of my favorite and most relaxing stays in a long time. The Waldorf Astoria Los Cabos Pedregal hits the mark on views, service, and comfort.
Travel on Point(s) has partnered with CardRatings for our coverage of credit card products. Travel on Point(s) and CardRatings may receive a commission from card issuers. Opinions, reviews, analyses & recommendations are the author's alone, and have not been reviewed, endorsed or approved by any of these entities.