The Waldorf Astoria Los Cabos Pedregal is the ultimate in luxury Los Cabos resorts. You enter via Mexico's only privately-owned tunnel. The room has thoughtful touches like a bottle of Clase Azul Reposado tequila to start your stay. Relax in your private getaway with spacious villas, casitas, or private homes, each with a private plunge pool and ocean views to calm and center you. Our review covers more than one visit to this gem in Mexico, which will have you wanting to go back just like me.
Booking
This Waldorf Astoria resort is a sought-after property in the points and miles community. It also can be hard to book. That is because the points pricing can vary and finding standard award availability can be difficult. The standard award rate here is 120,000 Hilton points. You can use Hilton's free night certificates for standard award nights.
I earned my certificates via my Hilton Honors American Express Hilton Aspire card and my Hilton Honors American Express Hilton Surpass card.
I have enjoyed two different three-night stays here. For my first three-night stay, I used two certificates and 120,000 Hilton points. The cash rate for this stay would have been over $4,300 and often is above $5,000 when including taxes and fees. For my second stay, I used only free night certificates. I recommend using Hilton's flexible date calendar search to find availability. 
One thing to remember on flexibility: Hilton does not have a reliable IT system to adjust your booking. Book for fewer nights initially and add on a night or more if needed. You do not want to have to ask Hilton to remove nights from your reservation. They may need to cancel and rebook with no guarantee of availability being open. You also need to cancel within 21 days of your stay for this resort.
Getting Here
The Waldorf Astoria is located about 45 minutes from the Los Cabos International Airport. You can arrange private transportation, which prices will vary. The price becomes easier with more travelers, with many offering one price for up to a certain number of passengers. The recommended ones I looked started about $80 one way or up to $150 round-trip. Many of the Travel on Points(s) team has used Cabo Airport Shuttle. The service was great and easy to book. Uber does not operate for pick up at the airport.
For a couple of my trips, I did rent a car as well. Mexico requires mandatory liability insurance, which must be purchased regardless of what credit cards or coverage you may have. I chose to use Cactus Rent a Car, on both visits, which was well reviewed and continuously recommended on popular online forums. They offered a flat rate per day and included the insurance, so no surprise fees at car pick up. Prices start at about $40 per day. The service was great, and I experienced no issues. This also allowed me to venture out as well as stop at the store. There is a Walmart and Costco on the way and many local grocery stores.
No matter your transportation choice, once you are at the resort, it's easy and affordable to use Uber. Most of my Uber trips were $8 or less each way. This is convenient for not having to battle the smaller roads and traffic, as well if you are out dining and drinking enjoying Cabo. There are also many dining options within a close and safe walking distance of the resort.
Check-In
Upon arrival, I was met with a friendly greeting and a welcome margarita. My bags were quickly whisked away to my room by the staff. Meanwhile, I listened to a quick orientation of the property. The large open-air lobby area was recently remodeled. The odd part was we never actually made it into the check-in area and I was never asked to sign or show my credit card, although it was on file via my account and booking. Then, it was off to the room. I have stayed in two different rooms here and will give you some insight into both. It may help you in putting in any room requests as well.
Room
For my first stay, my room was in room 6, one of the farthest buildings from the main area of the resort. The staff can send a golf cart upon request to give you a ride. As you will see from the room views, you are higher up, but also farther away if you need to run to your room for anything. This may also involve lots of steps, depending on your route.
I booked a standard room, which is a Pacific View King Bed. The room was large and spacious at just over 850 sq. feet. The long entrance hallway welcomes you with a complimentary bottle of tequila on the table as well as some fruit.
The first thing that caught my eye was the large plunge pool on the patio with the Pacific Ocean views.
The bathroom area included an open-air shower as well as a large soaking tub. I am not sure the purpose of the sitting chair next to the shower. The double sinks are always a favorite of mine.
The living area includes the king bed, nightstands, TV, and even a fireplace. I found the area to be spacious enough. Housekeeping was provided daily as well as nightly turndown service.
There is a small refrigerator with cold beverages. The beverages were complementary and restocked daily. One of my favorite things was the resort's graciousness with complimentary beverages and water even at the pool. Every afternoon they will deliver you complimentary beers or margaritas along with chips and guacamole too.
Upgraded Room
On my second stay, I received an upgrade to the Dos Mares Jr. Suite. This was room 26, which sits lower on the property and just off the far side of the pool.
While the main room layout is very similar, this room included a secluded outdoor sitting area with a hammock.
Also, the outdoor plunge pool was larger and was on a much larger, open terrace. I really loved this room, its convenient location, and the proximity to the rest of the resort. The one negative is the plunge pool. Although the plunge pool is larger, it sits really close to the walking path, only separated by the large shrubs. I wouldn't be surprised if some folks didn't even realize it was there. The walking path also sits lower.
The sitting area with chairs was a great way to spend the early morning after waking up. I would brew a Nespresso in the room and sit out here enjoying the views.
Dining
The resort offers a variety of dining options, albeit limited. Prices will have taxes (16%) and gratuity (15%) added. Keep in mind these taxes are for this entire region so plan ahead budget wise. You can view full menus here. Additionally, if you do have the Hilton Honors American Express Hilton Aspire card, this resort qualifies to use your $250 Hilton resort credit. On my 2022 visit, I also took advantage of an American Express offer to get $100 off. I split my purchases between my Aspire and Business Platinum card from American Express to take advantage of both offers.
The resort offers a variety of dining options, albeit limited. Prices will have taxes (16%) and gratuity (15%) added. You can view full menus here. Additionally, if you do have the Hilton Honors American Express Hilton Aspire card, this resort qualifies to use your Hilton resort credit.
Breakfast
Breakfast is available at Don Manuel's. Diamond members receive a complimentary continental breakfast($34).
The odd part of all this is you can actually choose a regular breakfast item for an upgrade charge of $10. This means you will only pay the $10. It also now includes their buffet options. The whole pricing and upgrade option felt like a nickel and dime tactic for diamond members on a resort that charges $1,300 per night.
The breakfasts were all good and well presented. The staff was friendly and accommodating.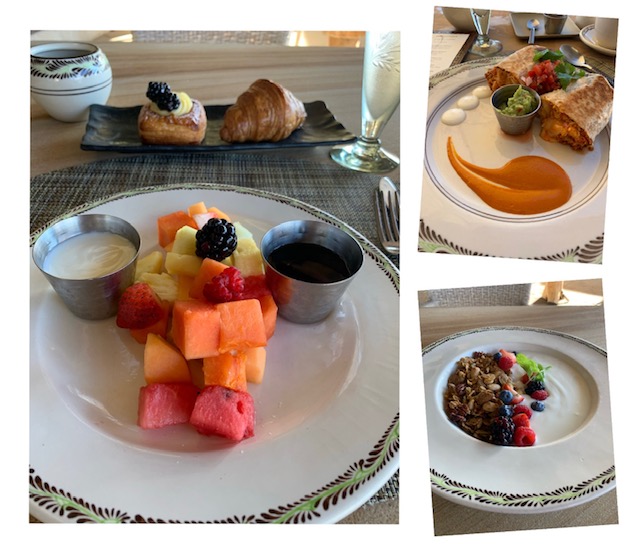 Lunch
For lunch, I dined poolside. The pool bar area is named Crudo and includes a raw bar with sushi and oysters and a variety of items. I've tried several different menu items here, including tacos, a chicken sandwich, and some melted cheese with chorizo. Many of the main items are large enough to share for a light lunch. You can view the full menu here. 
The pool service was fantastic from the time you arrived, throughout the day, and including dining. The staff brought complimentary bottled waters in an iced bucket that was routinely refilled throughout the day. They also adjust your umbrellas on request based on your desire for shade or more sun. This is in addition to staff bringing complimentary samples to you throughout the day had included fresh seafood tasting and a beverage of the day.
.
Dinner
I dined once for dinner and chose Don Manuel's once again. The food and service was exceptional during the meal. The only time it lacked was post dinner as I had an extensive wait to get my bill. This will be a common theme and more of the pace here in general.  
On my second stay, I was able to get into the much talked about El Farallon. As I looked for reservations, the reservation site described it best: tucked into the cliffs of The Waldorf Astoria Los Cabos Pedregal and stocked daily with bounty from local fishermen, El Farallon is the most sought-after dinner location in Los Cabos. The restaurant's name means "a rock that comes out of the ocean." You can view the full menu here. Keep in mind it can change daily. 
I recommend making reservations early for more desired times. If you can't get a preferred time, check with the concierge desk, which is how I got mine. It is an easy walk as you navigate to the end of the resort and enter the cliffside dining area. The restrooms are before the check in area, and literally inside the cliff. It is all quite an amazing sight the way this restaurant is designed.
After you are checked in, you are escorted to the champagne bar area. An extensive but pricey selection of beverages are at your disposal while you wait for a table. If there is still daylight, I recommend waiting for a table that sits on the edge, rather than the upper level where I was seated. Either way, you will be able to here the crashing waves as you dine.
The menu is a fixed price menu that starts at $68 per person. That will get you a choice of entrée, as well as two sides. Your dinner will include soup, a tasting trio of appetizers, bread, and a dessert after. Lots of add-on options as well. You will be presented the menu tableside and have any questions answered.
It is important to note, the dining experience will include plenty of seafood on the menu, so something to be aware of. The menu focuses on the fresh ocean to table seafood choices. The value, service, and experience were outstanding. I felt it provided more value and a much more of an intimate dining experience than Don Manuel's.
If you want to be more budget-orientated on food, there are several options in town and just a short walk away from the resort entrance. As previously mentioned, Ubers also operate in town and are not expensive. The resort will give you a ride to and from the resort's main gate if needed.
The Resort
In addition to the private plunge pool, there are three other pools on the property. One is an adult only pool and the others being family friendly. There is also a full spa available as well as a spa customer only pool area. You can review a full resort guide of services here.
The service poolside was amazing. From the moment you arrive, you are greeted by friendly, helpful staff. They get you set up with chairs and will even adjust your umbrella throughout the day for optimal shade. Waters were restocked and brought out at no charge and towels replenished. Since I was relaxing and enjoying the pool area for much of my stay, the service really stood out to me compared to other resorts and hotels I have visited.
There is also a tequila tasting bar near the lobby, although I did not visit that bar. Some new additions in 2022 included a coffee shop. Apparently, it was put in right after my last visit in late 2021. An iced cold brew will set you back about $10 US, but the coffee was good and friendly service. You can see all dining and beverage menus here.
Final Thoughts
I would absolutely stay at the Waldorf Astoria Los Cabos Pedregal again without hesitation. It was almost the perfect stay in a comfortable, relaxing setting with fantastic service and amazing views. As long as you are prepared for the prices and knowing your alternative options, I think this is a great choice. Not only one of my best redemptions using certificates and points, but one of my favorite and most relaxing stays in a long time. The Waldorf Astoria Los Cabos Pedregal hits the mark on views, service, and comfort. I am always wanting to plan my next stay by the time I am home.
Travel on Point(s) has partnered with CardRatings for our coverage of credit card products. Travel on Point(s) and CardRatings may receive a commission from card issuers. Opinions, reviews, analyses & recommendations are the author's alone, and have not been reviewed, endorsed or approved by any of these entities.