I recently spent a weekend at the Liberty Hotel, one of Marriott's only 3 luxury properties in Boston. Built in 1851, the hotel was formerly the Charles Street Jail and draws heavy inspiration from the building's prior life. Prison keys serve as decoration throughout the property and remnants of jail cells are still visible. The hotel is part of Marriott's Luxury Collection, which Marriott ranks among its luxury brands that includes the likes of Ritz-Carlton, St. Regis, and JW Marriott. And although the Liberty has some positives–excellent location, comfortable rooms, a good breakfast for elite members–simply put, nothing at this property felt luxurious. With tempered expectations, this hotel can still be a great place to stay in Boston.
Booking
With Marriott having replaced its award chart with dynamic pricing, the cost for redeeming points at the Liberty varies a lot. If you search diligently and far enough ahead, you can book this hotel for as little as 50,000 Bonvoy points. This would be a great use of a 50,000-point free night certificate from the Marriott Bonvoy Brilliant American Express Card (review).
For the weekend of our stay, rooms were going for 100,000 Marriott Bonvoy points per night. We didn't have that many Bonvoy points and didn't want to transfer Amex Membership Rewards to Marriott for this, so we booked cash. To lower the cash cost for this stay a bit, we took advantage of some Amex offers on a couple of our Marriott cards, such as the Marriott Bonvoy Business American Express Card (review).
We booked with cash via the Marriott STARS program, which is basically booking through a travel agent (though not all agents have access to STARS). The STARS rate sometimes can be lower than the hotel's member rate, which was the case for this stay. Booking through STARS comes with a few guaranteed perks regardless of whether you have any status with Marriott. These include free breakfast daily for up to 2 guests, a $100 hotel credit once per stay, complimentary wi-fi, and a welcome amenity. (We did not receive a welcome amenity during this stay but I didn't care enough to inquire about it). STARS bookings are also eligible for a room upgrade, subject to availability.
Location
The Liberty is on Beacon Hill, one of Boston's nicest neighborhoods. The Charles/MGH station on the MBTA redline is across the street, and so is a footbridge leading to the Charles River esplanade. The Public Gardens and the Boston Commons are just a 10-minute walk down Charles Street. This all makes the hotel very walkable.
Fenway Park was a 20-minute car ride during rush hour. We were about to call a Lyft when one of the bellhops offered us the hotel car. The ride ended up costing $10 more than a Lyft or Uber, but in a much nicer car and without having to wait.
Mass General Hospital is next door, but we did not hear any sirens (or noise of any kind) during our stay.
Check-in
The lobby is in the main rotunda of the former jail and shares the same space as the hotel's Lobby Bar. We arrived at the hotel in the afternoon and guests were occupying most of the seats throughout the lobby, which suggested the hotel was quite full for the weekend.
There was no one in line to check in so we were helped right away. The staff member explained the benefits of the STARS rate we booked. The free breakfast came in the form of a voucher. Marriott Bonvoy members with Platinum status and above receive 1,000 points per stay or breakfast in the restaurant per night of stay for up to two guests. Since our STARS rate already included free breakfast, we opted for the measly 1,000 points.
I asked about whether there were any suites available, given that I have Titanium status and my wife has Platinum. The staff member checked and said no suites were available for our stay (I checked on the app and saw that as well). But the front desk agent did upgrade us to a room with a city view.
After receiving our room keys, we were offered a glass of sparkling rosé. With rosé in hand, we were off to our room.
Room
The rooms themselves are in a separate tower connected to the main building. So while the hotel indeed used to be a jail, guests can't say they spent the night in a former jail cell.
The room was spacious and well-decorated, and offered an excellent view of Boston and the Charles River. The bed, desk, and leather reading chair were all quite comfortable. Sitting on the reading chair with the afternoon sun in the back made it a great spot to read. All that said, there was nothing in the room that made it luxurious.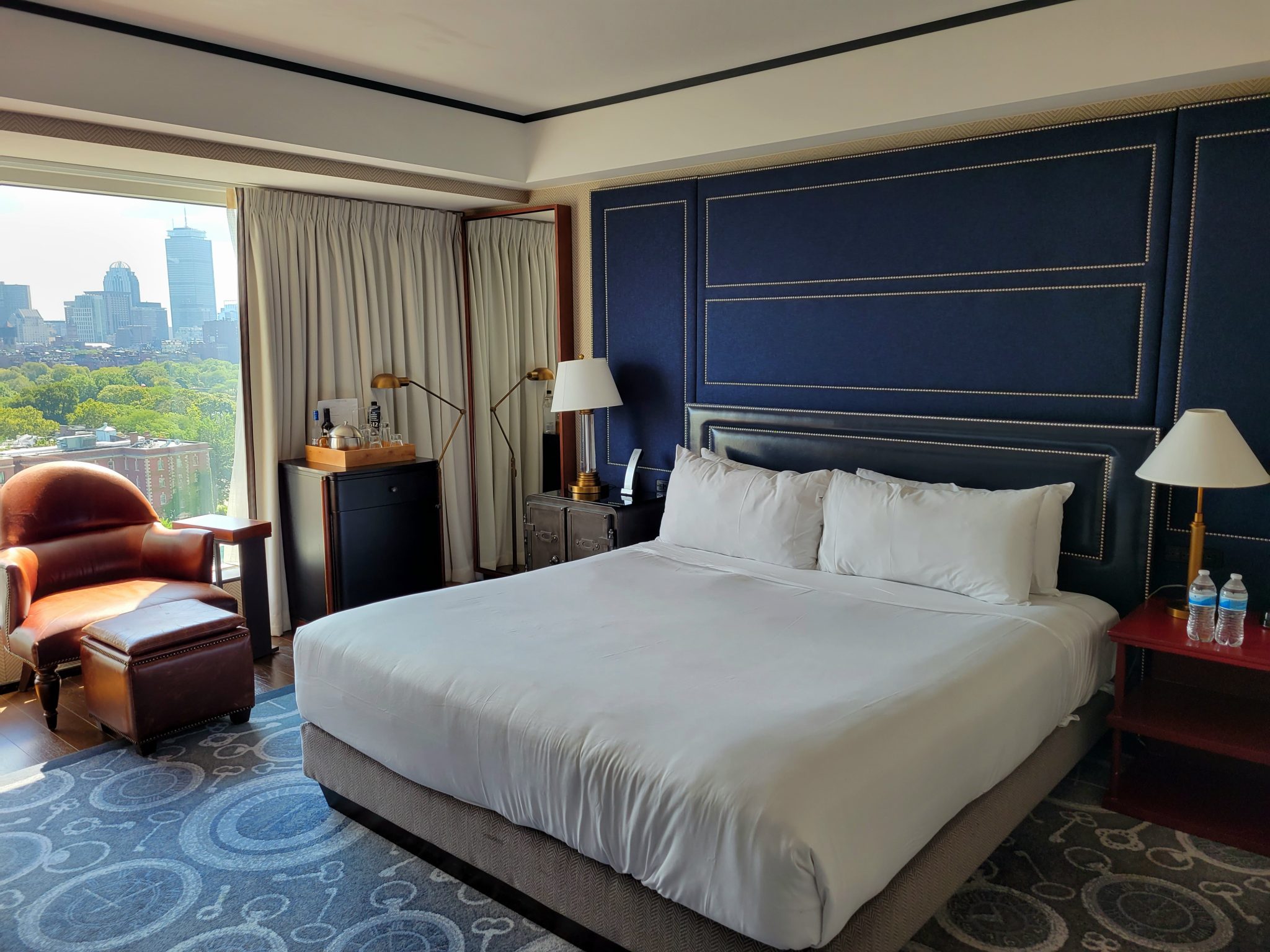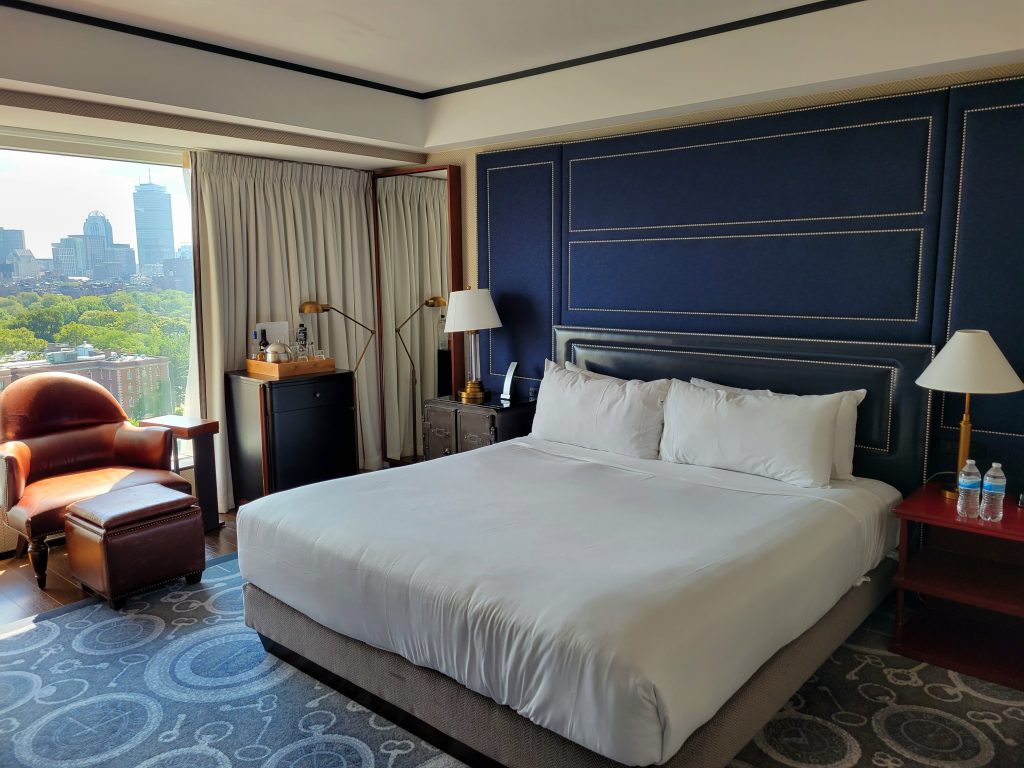 The bathroom was surprisingly large and had a bathtub separate from the shower, which is always a welcome sight. Unfortunately, the shower had bulk toiletries attached to the wall–unacceptable for a self-proclaimed luxury hotel.
We received two bottles of water daily with housekeeping, which appeared to be operating regularly. Service to the room was very fast. We requested a couple of toiletry items and fresh towels and everything arrived in under 15 minutes.
Room service was excellent. P2 ordered lunch one day while working from the room and the food arrived in exactly the amount of time given. The server brought the food on a nice tray with an actual plate and real silverware. This was a welcome departure from the pandemic-inspired trend of boxed room service food being delivered in paper bags with plastic utensils.
Food
The hotel features five dining options. Clink is the main restaurant, serving American food for breakfast, lunch, and dinner, as well as brunch on the weekends. Scampo serves modern Italian food for lunch and dinner. Alibi is an American bistro-turned-night club that is open in the evenings. Lastly, there's the Lobby Bar, which also features a space called the Catwalk that is exclusive to hotel guests. The Catwalk has lounge chairs and tables evoking the former jail's original catwalk, suspended above the hotel lobby.
The Lobby Bar was a cool space to kick back and have a drink in the early evening or even do a little work during the day. The menu prices for the bar were in line with what you would expect at a high-end hotel bar. A few days a week, they bring out a DJ at night to play in the lobby (I'm glad I didn't have to check in to the hotel during this time).
We ate breakfast at Clink twice during our stay. The food was solid and the portions were very generous. Service on Friday morning was great when the restaurant was fairly empty. But on Saturday morning, the restaurant was packed and we had to wait about 5 minutes for a table. Service was quite slow and a little dysfunctional, with scarce water and coffee refills, no condiments offered for our dishes, and guests receiving wrong orders at other tables. Here's hoping the issue was due to unforeseen short-staffing, but the restaurant's manager didn't look very concerned nor was he being proactive to help out the servers.
The breakfast vouchers say they are good for $28 per guest for up to two guests plus gratuity. Most dishes on the menu were priced between $24-$28. So if you ordered coffee or juice with your dish, you would go over the "limit." In true Marriott fashion, the only way to have a complete breakfast for $28 was by ordering the continental breakfast item on the menu, which included coffee, tea, and juice along with a standard continental breakfast and cost exactly $28. We went over the "limit" by ordering coffee along with our dishes and were told the voucher would cover our entire meal on both of our visits. Query whether that is the restaurant's or hotel's unofficial policy or sheer kindness from our servers.
Other
The hotel's gym was surprisingly small considering the caliber of this hotel. It consisted of a few stationary bikes and treadmills, one all-in-one machine, and one rack of dumbbells along with a single exercise bench. The hotel does not have a swimming pool. Parking is $69 per night for hotel guests.
Final Thoughts
Despite Marriott's massive footprint, it has a dearth of luxury properties in Boston. Aside from the Liberty, the only alternatives for Marriott loyalists are the Ritz-Carlton and the W. And honestly, the Liberty just doesn't cut it as a luxury property. It's a nice hotel with an interesting concept and history. But nothing at the Liberty amounts to luxury.
If you manage expectations, then the hotel's excellent location and comfortable rooms make it a good option when visiting Boston. For 50,000 Bonvoy points, I would return with little hesitation. For more than 50,000 points or cash out of pocket, I'd rather save my points and cash for an actual luxury property.
Have you stayed at the Liberty? Come over to our Facebook group and share your thoughts.
Travel on Point(s) has partnered with CardRatings for our coverage of credit card products. Travel on Point(s) and CardRatings may receive a commission from card issuers. Opinions, reviews, analyses & recommendations are the author's alone, and have not been reviewed, endorsed or approved by any of these entities.