Capital One Café Review
We've all heard the clever Capital One marketing term "What's in your wallet?" Maybe its next catchy marketing material is "what's in your coffee shop?" As Capital One Café locations pop up nationwide, I set out to explore these multi-use spaces and get to the bottom of what is going on.
What is a Capital One Café?
Capital One lists the Capital One Café as "the comfortable coffee shop and working space you've been looking for." In a nutshell, a Capital One Café is a Capital One bank branch, with full-service banking options, and a coffee shop. There is ample space to use the wifi and work remotely, space out and enjoy a cup of joe, or jump into a private area and discuss investment options with a Capital One banker. Intrigued? I certainly am.
At the time of writing, there are over 45 Capital One Cafés in 18 states and the District of Columbia. Not surprisingly, all locations are in urban areas. You can see the full list of locations here.
Capital One Café Detroit
I recently traveled to Detroit to hang out with Mark & Rick. I arrived at 7 a.m. and wanted to get some work done before going to the Detroit Tigers game in the early afternoon. Needing breakfast and coffee and a quiet place to get work done, the Capital One Café was a perfect fit.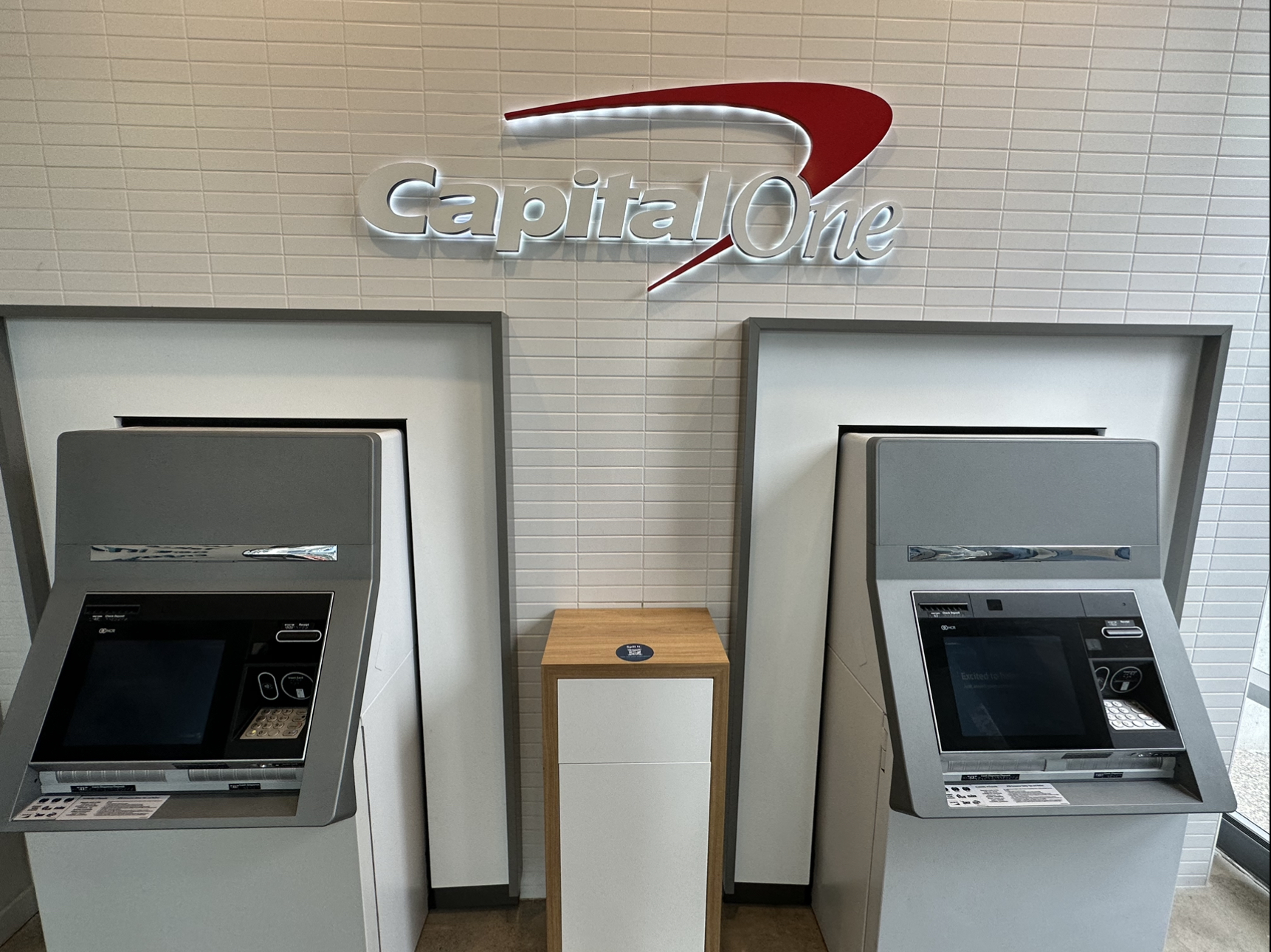 Inside the door, you are greeted by a banker and two Capital One ATMs. The ATMs have video capability and you can interact with bankers from remote locations.
Once inside, the space looks like any other coffee shop. Except for one notable exception: there are Capital One employees milling about everywhere, ready to assist you with a variety of banking needs. On a Thursday around 10 a.m., there were between 6 and 10 bankers present. Signs clearly outlined what services are available.
Since I was there to work, I skipped the financial advice and grabbed a coffee and a bottle of water. For Capital One cardholders, you get 50% off coffee. I have the Capital One Venture and Capital One Quicksilver cards, so I flashed my Venture and received the discount. That discount is only a couple of bucks, but it makes the coffee very reasonably priced. After grabbing my beverages, I went upstairs to check out the workspace.
Upstairs had plenty of private space, including closed rooms, couches, and tables with chairs. It was very empty and there was plenty of privacy. Unfortunately, the wi-fi was so horribly slow and inconsistent that I switched over to a mobile hotspot. If I returned to this Capital One Café to work, I would plan for a mobile hotspot.
Cap One Café Detroit – ToP Thoughts
Overall, I enjoyed the concept of the Capital One Café in Detroit. I appreciate the half-priced coffee and a nice, quiet space to get work done, but the awful wi-fi really hindered my ability to do meaningful work. Running a mobile hotspot from my phone is not a long-term solution and makes me think twice about returning to this particular location. Hopefully this wi-fi issue was temporary.
Have you visited a Capital One Café? What are your thoughts? Let us know over in our Facebook group.