Stopovers with Air Canada Aeroplan
Aeroplan has one of the most generous stopover rules out there. Air Canada's loyalty program charges you only 5,000 points for a stopover and you can book it online without every picking up the phone. For those unfamiliar, stopovers let you spend a few days in a city on your way to your final destination all on the same ticket. You're essentially extending a layover into something much more enjoyable, while still on the same ticket. This guide walks you through the steps to book stopovers with Air Canada Aeroplan.
RELATED: ToP Guide: How To Maximize Award Travel Redemptions With Stopovers
Aeroplan's Stopover Rules
Aeroplan charges 5,000 points to add one stopover to any award booking. You can add a stopover to one-way, round-trip, and multi-city awards, with one stopover allowed per direction of travel. There are a few restrictions to keep in mind:
A stopover cannot be longer than 45 days.
You cannot have a stopover in the US or Canada, no matter where you're traveling.
Open jaw is not permitted for a stopover (you must continue your trip from the same city where you're having the stopover).
You cannot transit through the same airport, city or country more than once on a one-way award.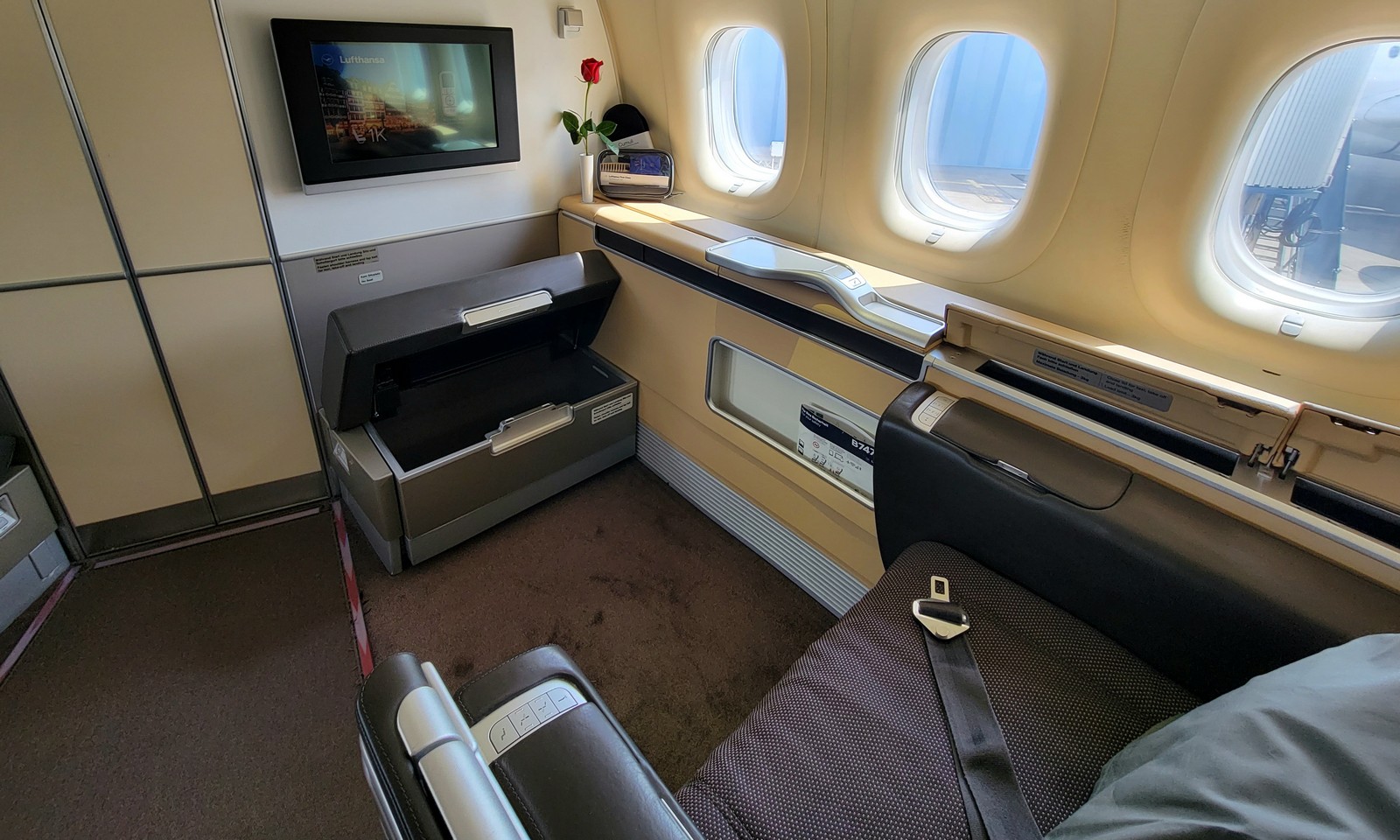 How to Book Stopovers with Air Canada Aeroplan: Step By Step Process
Here are the step by step instructions to book stopovers with Aeroplan. In this example, let's book a business class flight from San Francisco (SFO) to Manilla (MNL) with a stopover for a few days in Taipei (TPE).
Step 1: Search availability for each leg separately
As always, you will have more success by searching availability for each leg individually. So we will first search Aeroplan for availability from SFO to TPE. Once we find that, we'll search TPE to MNL.
Here is some business class availability from SFO to TPE on EVA Air in business class departing on August 1 for 75,000 Aeroplan points: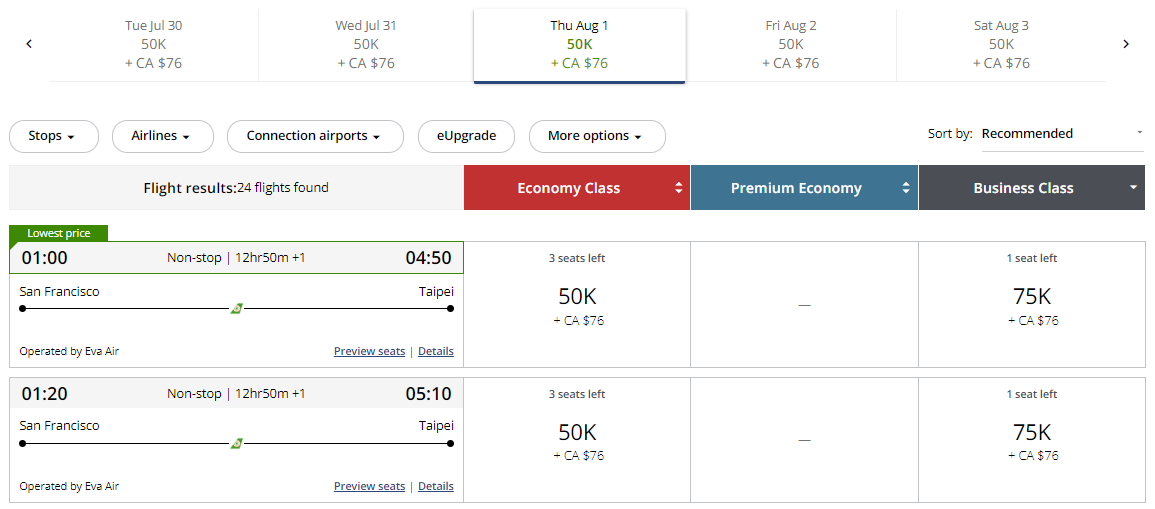 And here is award availability from TPE to MNL a few days later, departing on August 6: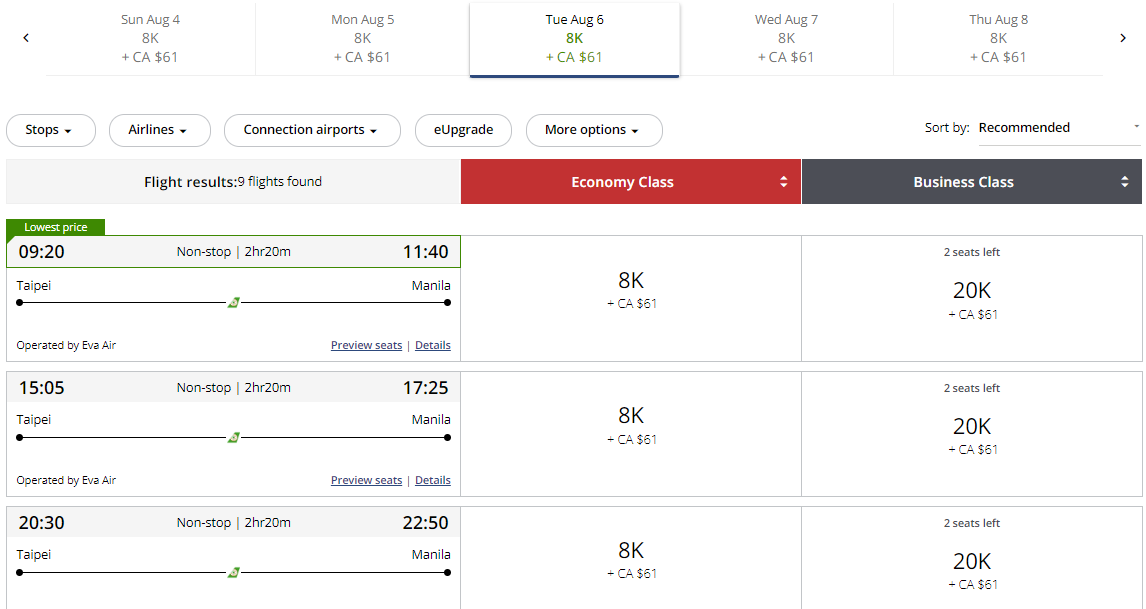 Step 2: Search the complete journey via as a multi-city/stopover itinerary
Now that we found availability for each leg in our itinerary, we can use Aeroplan's multi-city/stopover option to piece the full trip together. The search boxes here are quite straightforward.
First, insert SFO as the departure airport and MNL as the final destination. The departure date is the date of your first flight, so August 1 in our case.
Then click "Add stopover for flight 1" and insert TPE as the stopover destination. For the length of the stopover, we are selecting 4 days to make sure we catch that flight departing on August 6 found above. Here is what the completed search boxes will look like:
If this works out correctly, we should see an itinerary involving a flight from SFO to TPE and then another flight from TPE to MNL, with a 4-day stopover in TPE. This should be priced at 80,000 points (the original 75,000 points + the 5,000 points for the stopover).
Keep in mind that Aeroplan has a partially distance-based award chart. If the total distance of the combined flights puts you over the hump into the next band, the award price will increase. In this example, our itinerary has a total distance of fewer than 7,500 miles, meaning it should cost 75,000 points without the stopover. If instead of MNL we were traveling to Singapore (SIN), the total distance flown would be more than 7,500 miles and the award would cost 87,500 points instead because of the greater distance flown.
Here are the search results, which include the flights we found under Step 1 above:
As expected, the price is 80,000 Aeroplan points (75,000 for the original itinerary + 5,000 for the stopover). If we wanted to skip the stopover and just connect onwards to MNL, the itinerary would just cost 75,000 points without the stopover.
Step 3: Complete the booking
Once you select your desired itinerary, you can complete the booking just as you would any other Aeroplan award booking.
Keep in mind that Aeroplan charges the same fare difference (15,000 points) between the Lowest Reward and Flexible Reward fares regardless of whether you're booking a stopover. This means you can pay the extra 15,000 points for the Flexible Reward in case you wish to tinker with your itinerary in the future without incurring any change fees.
Stopovers with Air Canada Aeroplan: ToP Thoughts
Aeroplan is a fantastic program for stopovers on award bookings. The program's stopover rules are some of the most generous in the award travel space, and the fact that you can book a stopover online makes things even better. Where will you be booking your next stopover?